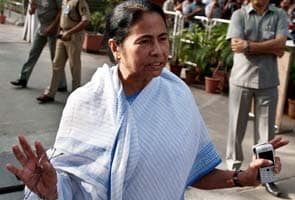 Kolkata:
Trinamool Congress chief Mamata Banerjee, who plans to push a no-confidence motion against the UPA government during the Winter Session of Parliament, has reached out to the Bharatiya Janata Party (BJP) for support.
Senior BJP leader Murli Manohar Joshi today said Ms Banerjee had called up Leader of Opposition in the Lok Sabha Sushma Swaraj.
"Mamata Banerjee has approached Sushma Swaraj," Joshi said. "When Swaraj is back from Mumbai after Bal Thackeray's funeral, we will sit and discuss the issue."
He said the BJP-led National Democratic Alliance (NDA) would be meeting tomorrow or the day on the issue.
The Trinamool Congress has 19 MPs in the Lok Sabha and, as per rules, needs to enlist the support of at least 50 MPs to push a no-confidence motion.
Asked if the numbers were adequate to win a no-confidence motion, Mr Joshi said: "That is why we will sit and discuss. If the numbers are not adequate and the motion fails, the government becomes safe for the next six months within which another such motion cannot be brought. If the motion is passed and the government falls, you have to think of the next course of action."
The Congress has said the Trinamool Congress does not have the numbers to pose a threat to the UPA government.