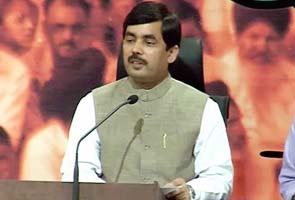 New Delhi:
The Bharatiya Janata Party (BJP) has escalated its offensive on former ally, the Janata Dal-United (JD-U), with a senior BJP leader today wondering whether Bihar Chief Minister Nitish Kumar will implement the Congress's flagship food security scheme in his state on Rajiv Gandhi's birth anniversary.
Taking a jibe at Nitish Kumar, senior BJP leader Shahnawaz Hussain today said, "It is said that a new devotee utters the lord's name loudly. JD-U is a new ally of the Congress, therefore it is taking their names loudly. We would like to ask if they will implement food security in Bihar on Rajiv Gandhi's birthday."
The Congress party has decided to roll out its food security programme in the five states it governs - Delhi, Haryana, Kerala, Karnataka and Himachal Pradesh - from August 20.
Despite various political parties opposing the food security legislation, including the Samajwadi Party (SP) which otherwise supports the United Progressive Alliance (UPA) government from outside, Nitish Kumar has "in principle" supported the bill, which will be tabled before the Parliament for ratification during the monsoon session beginning August 5.
The growing bonhomie between the JD-U and the Congress has been interpreted as a sign of changing political equations in the country in the run-up to the general elections, due in less than a year.
The JD-U ended its alliance with the BJP in Bihar last month over Narendra Modi's appointment as the BJP's campaign chief for the 2014 general elections, thereby projecting the Gujarat Chief Minister the party's prime ministerial candidate.
The bitter exchanges on secularism and Modi's "puppy" remarks have further aggravated the tension between the two parties.
Reacting to Narendra Modi's "burqa of secularism" remark, effectively aimed at the Congress, Nitish Kumar yesterday said such statements justified their breakup. He even asked the Gujarat Chief Minister to "mind" his language and "respect other religions".