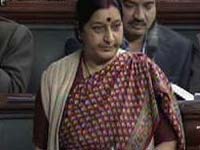 New Delhi:
A series of amendments submitted by the Bharatiya Janata Party (BJP) seeks to force key changes in the Lokpal Bill that is being debated in the Lok Sabha today. These include dropping the provision on a quota for the minorities in the search committee as well as among members of the Lokpal and leaving the task of establishing the Lokayukta to the states.
"Accept our amendments or send it back to the Standing Committee for fresh discussions on these issues," Ms Swaraj said. It could be brought back to Parliament after a couple of months, she said. "We want a strong anti-corruption Lokpal Bill," she said.
Launching a scathing attack on the government's Bill, Ms Swaraj said that the government had promised to provide an optional Lokayukta model for the states. But the bill that was being brought in made it mandatory since the government said that states like Gujarat had failed to create effective Lokayuktas, she said. Pointing out that 18 states already had a Lokayukta in place, the latest being Uttarakhand, she said that the bill would over-ride these.
The BJP wants the states to have the freedom to form the law which will bring the Lokayukta into being; the Centre should only pass an "enabling legislation" to bring this about. Any move otherwise would be against the Constitution's federal structure, she said.
On the quota for minorities, she said that reservation in constitutional bodies was not allowed. The Bill seeks to reserve five seats in a Lokpal of nine members for members of the Scheduled Castes, Scheduled Tribes, Other Backward Castes and minorities.
Ms Swaraj also called for a change in the process through which the Lokpal will be selected. It wants the Leader of the Rajya Sabha to be a part of the search committee, instead of the eminent jurist which the government has recommended in its Bill. "If the Chief Justice is already part of the panel, where is the need for another jurist?" she said. This change, she explained, would reduce the government's control over the process.
She came out strongly against the provision seeking approval for an inquiry against the Prime Minister. The Prime Minister had been brought under the Lokpal but there were too many safeguards, like the need for inquiry proceedings against him to be in-camera, Ms Swaraj argued.
The BJP leader also pressed for an amendment to give the Lokpal the power to initiate suo motu action and not limit its functioning to acting on the complaints that it received.