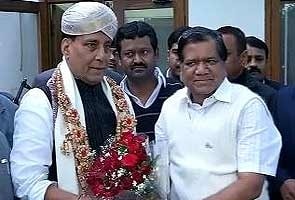 Bangalore:
Two BJP legislators have submitted a petition to Karnataka Assembly Speaker KG Bopiah seeking the disqualification of the 13 Bharatiya Janata Party (BJP) MLAs who have handed in their resignations. BJP MLA Sarvabhouma Bagli said, "They have voluntarily resigned from the BJP. Any person who voluntarily resigns from the party has to be disqualified as per the rules."
The MLAs tried handing in their resignations last week, but the Speaker was out of town. Therefore, they submitted their resignations in writing to the Governor, HR Bhardwaj.
Earlier in the day, Karnataka Chief Minister Jagadish Shettar, whose government is in trouble following the resignations of two last week, met BJP president Rajnath Singh in the capital. The visit was dubbed a courtesy call from Mr Shettar to congratulate Mr Singh on his election as party president last week.
Following the meeting, Mr Singh said that he is absolutely certain that the Karnataka government will continue to remain in majority and that "there is no crisis". He added, "I have no advice to give to Mr Shettar as he is a thoroughly experienced and competent politician."
"Our government will complete its term," Mr Shettar asserted.
Minister for Public Works CM Udasi and Minister for Energy Shobha Karandlaje, who quit the Karnataka government last week, are expected to join the new party founded by BS Yeddyurappa, who exited the BJP in December after 40 years.
On Saturday, the governor had said that he would not seek a confidence vote for now and that he would "review the situation if more legislators resign." Supporters of Mr Yeddyurappa claim that more MLAs are set to resign. If 18 legislators in total resign, the government will be in a minority.
The Karnataka Assembly has 223 members, apart from the speaker and a nominated legislator. The BJP has 119 seats and the opposition Congress and Janata Dal(S) together have 97 seats. There are seven independent legislators, who hold the key if a trust vote is called for.
Mr Yeddyurappa has been threatening to bring down the BJP's first government in south India since last year, when he accused his party of reneging on a promise to give him a powerful position. He was forced to resign as chief minister after he was indicted for corruption in a report on illegal mining.
The party tried to assuage him by allowing him to pick his replacement, not once but twice. In both cases, Mr Yeddyurappa turned against his successors. He has vowed to defeat the BJP in the state elections this year with his Karnataka Janata Party (KJP).