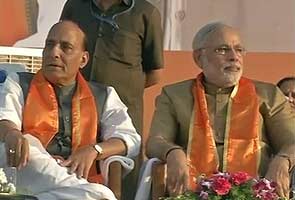 New Delhi:
The Bharatiya Janata Party or BJP will hold the first meeting of the newly-appointed office bearers today. They are expected to discuss the strategy for the 2014 general elections.
The meet comes a day after the BJP foundation day celebrations, which were overshadowed by Narendra Modi. Party chief Rajnath Singh hailed Mr Modi's mass popularity on the BJP's 33rd foundation day at a grand function in Ahmedabad, where an estimated one lakh supporters were in attendance. The BJP president was the only central leader of the party to have been invited by Mr Modi.
Mr Singh pronounced the Gujarat Chief Minister as the most popular leader of the party - a debatable claim since there are others in the BJP, including senior leader LK Advani, who appear to have their concerns.
Last month, party president Rajnath Singh had singled Mr Modi out to become the only Chief Minister on the BJP's parliamentary board - a group of the party's top 12 decision makers.
Many supporters of Mr Modi in the party say this signals an end to the debate - who after Atal Bihari Vajpayee and LK Advani. But the party has strategically continued to stop short of naming him as the man who will lead it in the next elections.