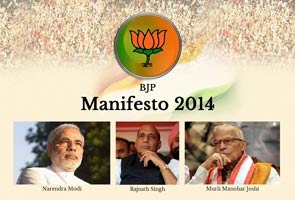 New Delhi:
The Bharatiya Janata Party (BJP) launched a website today, inviting suggestions from voters for its election manifesto for the 2014 Lok Sabha poll.
Senior BJP leader Murli Manohar Joshi, who heads the party's manifesto committee, said the website will help the party connect with its voters.
"A manifesto should reflect the aspirations of the masses, especially those of the Young India; it should address concerns of the people and it should redefine the way India is governed at the moment," Mr Joshi said launching the website.
The website, www.bjpelectionmanifesto.com, contains a form on the top right corner that can be downloaded to submit suggestions.