Highlights
New place at 6, Deen Dayal Upadhyay Marg is 5 km from the present office
The 70-room new office is a multi-storeyed building with three blocks
Giant cut-outs of party leaders adorn the entrance
New Delhi:
Prime Minister Narendra Modi today inaugurated the new office of the Bharatiya Janata Party which has moved base from 11, Ashoka Road in the heart of Delhi - the BJP's headquarters for decades, often serving as a synonym for the party. The new address - 6, Deen Dayal Upadhyay Marg - is five kilometres away from the present office, on a street named after a prominent leader of the Rashtriya Swayamsevak Sangh or RSS, the BJP's ideological mentor.
"Is this the BJP office or my office? Every party worker should think this is my office... This office isn't for the party's roadmap, it is for realising the hopes and dreams of the party workers... the soul of this office is the party worker," PM Modi said to an audience which had party veteran LK Advani, ministers and top leaders in attendance. The Prime Minister also thanked BJP President Amit Shah for "completing the office in a timely manner, and like the one we dreamed of".
The 70-room new office space - the foundation for which was laid by PM Modi and Mr Shah in August 2016 - is a modern, multi-storeyed building with three blocks, spread over a sprawling two acres. The main building is seven-storey high, and the other two on the side have three storeys each, housing the offices of the party president and other senior leaders.
Giant cut-outs of the Prime Minister and the BJP chief along with photos of party patriarch and former prime minister Atal Bihari Vajpayee, veteran LK Advani and several top leaders adorn the entrance.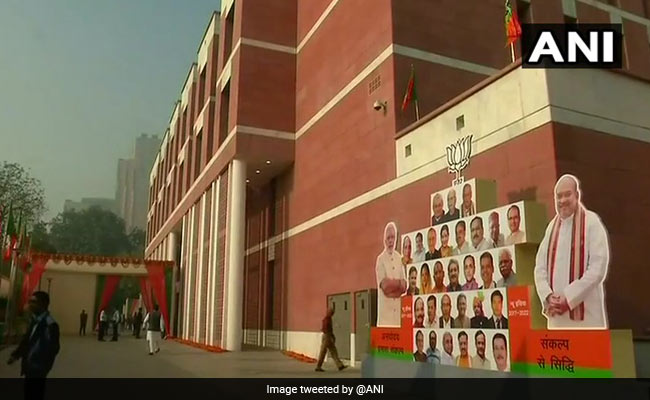 The timing of the relocation is strategic - it comes in the middle of a hectic election season, culminating in the general elections next year.
The BJP led by Amit Shah, who prefers to conduct his meetings at the party office, reportedly felt that that the current office was small and lacked features of a modern office. So, the new headquarters - designed by a Mumbai-based firm - with state-of-the-art facilities, will serve as a nerve centre, coordinating the party's campaigns across the country, connecting it with over 600 district offices. The BJP chief reportedly visited the site 18 times in the course of its construction, closely supervising operations.
The WiFi office complex includes two large conference halls and a digital library connected to each party office in state capitals and district headquarters.
"All modern technologies are present here. We can video conference with every district office. There is a modern IT cell provided for, there is a social media room," Amit Shah said.
The shift makes the BJP the first major national party to move its office outside Lutyens' Bungalow Zone, following a Supreme Court directive that party offices should be relocated from the area. Most political parties are headquartered out of bungalows in the VIP zone.
(With inputs from Agencies)