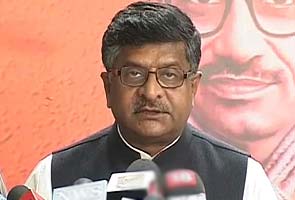 New Delhi:
The BJP and its ideological mentor, the Rashtriya Swayamsevak Sangh or RSS, have tried to play down a senior RSS leader's accusation that Gujarat Chief Minister Narendra Modi is stoking the demand for the removal of Nitin Gadkari as party president. Mr Modi was blamed for trying to engineer Mr Gadkari's exit in a blog over the weekend by MG Vaidya, triggering a damage control exercise with the Gujarat elections only a month away.
"The BJP completely rejects such insinuations as it is totally unfounded," said party spokesperson Ravi Shankar Prasad, reading a statement issued by Mr Gadkari. "All leaders and chief ministers have been working cohesively and unitedly for the party...The BJP is firmly behind Narendra Modi," he read out from what was clearly the party president's attempt at establishing solidarity by example. (
Read the statement issued by Nitin Gadkari
)
The RSS has said these are Mr Vaidya's personal views and do not represent those of the organization. Mr Vaidya had written in his Marathi blog, "One person said that Gadkari should go as party president, in the same breath he also said that Narendra Modi should be Prime Minister. Therefore it is natural to assume that the plot to oust Gadkari was hatched in Gujarat. And because Gujarat has been mentioned, it is natural that the needle of suspicion falls on Narendra Modi." The RSS leader was referencing last week's revolt in the BJP against Mr Gadkari, frontlined by Rajya Sabha MP Ram Jethmalani.
He also said, "Narendra Modi might have felt that Gadkari as the BJP president will hamper his chances of becoming the Prime Minister" and warned that it is critical for the BJP to remain and appear united, saying, "There is no need to deliberate over the PM candidate for 2014 now in 2012."
Today, Mr Vaidya too tried to limit damage saying his comments were his personal opinion and relating it to the RSS was wrong. But the RSS veteran remained scathing about Mr Jethmalani's revolt and his linking it to Gujarat. Mr Vaidya had blogged, "He (Modi) is using Jethmalani to fulfill his plans."
The contentious blog reiterates the conflicting agendas that have become public offerings since charges of financial malpractice encircled Mr Gadkari a month ago.
The government is investigating whether firms who bought into his sugar and power empire were ghost investors.
Those within the BJP who remain on Mr Gadkari's team recognise that he serves as an effective check against Mr Modi, who is poised to deliver Gujarat for a third consecutive term to his party in December's elections, and expects as his reward to be named the BJP's nominee for prime minister for the general elections in 2014.
Both RSS men, Mr Modi and Mr Gadkari have not been the best of friends. The latter earned the Gujarat Chief Minster's ire particularly when he reinstated his old rival Sanjay Joshi in the BJP last year. Mr Joshi, who had been expelled from the party in 2005 over an MMS scandal, was chosen by Mr Gadkari to be a key manager of the BJP's election campaign in Uttar Pradesh. Mr Modi expressed his displeasure by staying away from important party meetings that Mr Joshi was a part of and also refusing to campaign for the party in UP. The BJP fared miserably in the state.
Mr Gadkari blinked first and asked Mr Joshi to quit the BJP in an attempt to buy peace with Mr Modi in May this year. Mr Joshi did so and went back to the RSS.
Mr Modi's supporters in the BJP see in Mr Gadkari's recent travails, the right time to engineer his side-lining so that the new president is someone who enjoys a good rapport with Mr Modi - sources say Arun Jaitley is a favourite for this camp.
To combat the scheming, and to protect its own turf - the RSS selected Mr Gadkari as BJP president in 2009 - the RSS has pressured the BJP into pledging its support for Mr Gadkari, at least on record. The BJP said last week that he will complete his term as president till it expires in December. However, in a sign of the growing chasm within, senior BJP leader LK Advani did not attend the meeting at which the party endorsed Mr Gadkari, declaring that he was not guilty of "legal or moral wrongdoing."
Mr Modi can ill-afford the RSS' displeasure. He depends heavily during elections on the Sangh's well-organised and deeply entrenched cadres in Gujarat and any fissures so close to the Assembly polls could affect the BJP adversely. Mr Modi is fighting not only the Congress in Gujarat this time, but also factors like Keshubhai Patel, who is an old BJP veteran who broke away from the party on account of his differences with Mr Modi. Mr Patel is said to still enjoy the support of RSS cadres in the state.