Highlights
BJP, Congress, JD(U) listed on website of Cambridge Analytica's affiliate
Congress denied that it had used the services of Cambridge Analytica
India warned Facebook against attempts to influence electoral process
New Delhi:
Both the Congress and the BJP may have been clients of the Indian affiliate of the disgraced London-based data analytics firm,
Cambridge Analytica
, electronic records and documents accessed by NDTV reveal. These findings run contrary to the assertions of
both parties
. On Wednesday, Union Minister for Information and Techonology
Ravi Shankar Prasad alleged that the Congress had been in contact with the firm
. "We support press freedom but don't like misuse of
social media
in the electoral process. As IT and law minister, I have to make it clear," he said.
Congress spokesperson Randeep Surjewala, however, denied that the party had used the services of Cambridge Analytica.
But the website of the Indian affiliate of Cambridge Analytica, Ovleno Business Intelligence (OBI), mentions the BJP, Congress and the Janata Dal (United) of Nitish Kumar as clients.
Ovleno is run by the Amrish Tyagi, the son of Janata Dal (United) leader KC Tyagi. Ovleno describes itself as part of a joint venture between SCI India and SCL Group, London. SCL Group is the parent firm of Cambridge Analytica.
Ovleno's website has since been suspended.
Mr Tyagi, in an interview to NDTV, said his firm had worked for the BJP in the 2012 Uttar Pradesh Assembly elections, and had done work for the Youth Congress in Jharkhand between 2010 and 2011.
Cambridge Analytica's website says the company provided its services during the Bihar election in 2010 to a political party in India. "Our client achieved a landslide victory, with over 90 per cent of the total seats targeted by CA being won," it says. The Janata Dal United-BJP alliance had swept those elections.
Moreover, the publicly available LinkedIn page of one of the directors of Ovleno, Himanshu Sharma, states that he "managed four election campaigns successfully for the ruling party BJP" and "achieved the target of mission 272".
The start date for Mr Sharma's association with Ovleno is 2013.
It further went on to say he helped in "confidentially maintaining the database to be provided constituency wise to BJP candidate(s) as an additional support for national elections and state elections of Haryana, Maharashtra, Jharkhand and Delhi".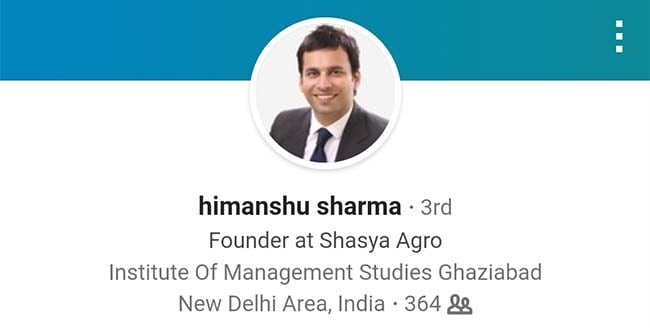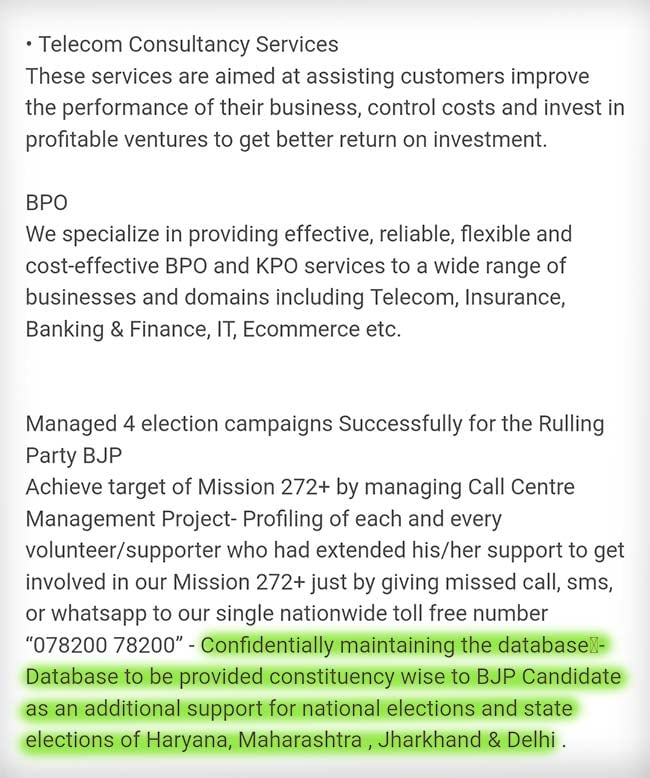 The association with the BJP now stands deleted from Sharma's LinkedIn profile.
The Memorandum of Association of Ovleno states as the "main objectives" of the company "competitive business intelligence research, investigate and provide surveillance services and market survey to the industries and organization."