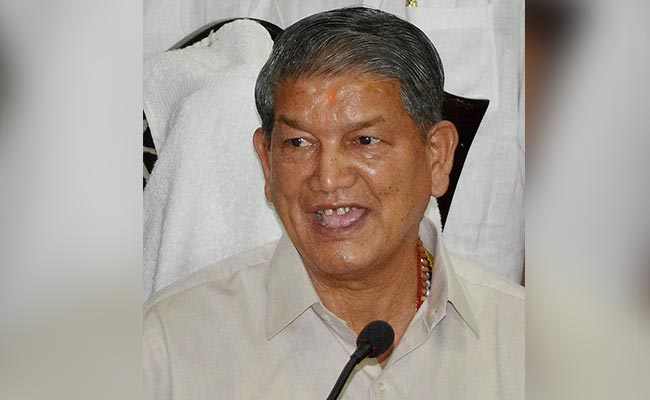 Highlights
Harish Rawat has called the BJP, the Bharatiya "Jhoot" Party
He said attempts were being made to poach legislators before floor test
BJP demands unconditional apology for what it calls "wild allegations"
Dehradun:
Harish Rawat of the Congress has lashed out the BJP, calling it the Bharatiya "Jhoot" Party or a party of liars and has alleged that attempts are being made to poach his legislators as he awaits a chance to prove majority in a floor test in the Uttarakhand Assembly.
The BJP has demanded an unconditional apology from the Congress for what it calls "wild allegations... to divert public attention from real issues".
Mr Rawat, who celebrates his 69th birthday today, had hoped for a final judgement from the Supreme Court on the imposition of President's Rule by the Centre in Uttarakhand, a move that had meant the dismissal of his government.
The Supreme Court said today that President's Rule would continue in the state and that no floor test would be held till its final decision, which is expected next week.
"I trust the courts," Mr Rawat said, but added that he feared that the delay would fuel horse-trading. Two Congress legislators have alleged that they have been offered crores of rupees and seats in Parliament by the BJP in exchange for their support during Mr Rawat's floor test.
"Their own former CM was caught live on camera negotiating a money deal to buy back disgruntled party MLAs. It is a bid to divert attention from this that they are making unfounded allegations against the BJP," party's Ajay Bhatt alleged, referring to a sting operation that purportedly showed Mr Rawat attempting to horse-trade after nine legislators from his party rebelled against him.
One of the Congress dissidents, Vijay Bahuguna, whom Harish Rawat had replaced as Uttarakhand chief minister, said the allegation that Congress MLAs have been offered bribes to jump ship is "preposterous."
Mr Bahuguna has suggested that fresh elections be held now in the state, which is due for assembly polls next year. "Neither me nor any of my colleagues are interested in becoming Chief Minister in this scenario," he said.
The Centre had introduced President's Rule on March 27, one day before Harish Rawat was to seek a trust vote.