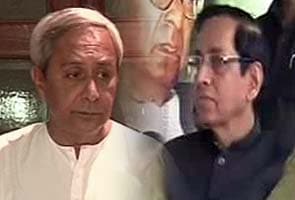 Bhubaneswar:
The state executive committee of the Biju Janata Dal (BJD) which met in Bhubaneswar today for the first time in two years expelled Rajya Sabha MP Pyarimohan Mohapatra from the party for anti-party activities.
Odisha Chief Minister and BJD president Naveen Patnaik announced this today in Bhubaneswar. "He has acted against the party constitution," Mr Patnaik said.
Mr Mohapatra had formed Odisha Jan Morcha - an outfit designed to challenge Chief Minister Naveen Patnaik's authority and leadership.
"I heard it through electronic media. He is acting against the party constitution. I am not surprised because Patnaik considers partymen as his personal servants. If someone is above this he will be thrown out. I am still in the BJD and will fight for the BJD workers," Mr Mohapatra said today.
The party also expelled Mr Mohapatra's close aide and party general secretary Jagneswar Babu.
Mr Mohapatra was at the centre of a controversy in May this year when reports emerged that a powerful section within the ruling BJD had fallen out with the Chief Minister and the rebels are planning to split the BJD. Mr Mohapatra, however, denied these reports later.
Sources had earlier told NDTV that a powerful section within the party had reportedly garnered the support of about 60 of the 104 BJD MLAs. The dissidents, sources added, also mustered the support of 17 Congress legislators and three Nationalist Congress Party (NCP) MLAs - enough to oust the Chief Minister, and form a government in the 147-member Odisha Assembly. The closed-door meetings on Tuesday night at Mr Mohapatra's residence and later, at a star hotel, were meant to chalk out the final plans for the anti-Patnaik offensive, sources revealed.
Rubbishing the reports, Mr Mohapatra had said that the "33 MLAs who met me said the party organisation is neglected and bad elements not taken to task."