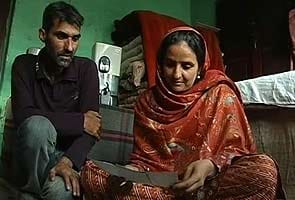 Srinagar:
Encouraged by the Indian government's rehabilitation policy, nearly 300 young men from Kashmir, who were living in camps in Pakistan Occupied Kashmir, returned home after nearly two decades.
However, for these men, who had crossed the Line of Control in the early nineties, the homecoming was far from what they expected. These men who had crossed the Line of Control in the early nineties in search of 'freedom' are now facing grave crisis of survival and identity.
For Shabir Ahmad, who returned to Kashmir earlier this year accompanied by his Pakistani wife and their three children, what was supposed to be a joyous homecoming turned into a nightmare with his wife and him being arrested upon their arrival.
Things didn't improve much after their release. Mr Ahmad sold his land to pay off his debts.
"My brothers told me that they had to spend two lakh rupees on my law suit (to get him released from jail). I sold my share of land to pay that debt. Now, I am repenting why I have returned,'' Mr Ahmad told NDTV.
His wife Asma says: "I was thinking we had home and family here. We will get support and live a peaceful. But there was nothing like that.''
The rehab policy is yet to deliver on its promises but in the meanwhile nearly 300 Kashmiris who have returned in the past year are finding it tough to get jobs because of their past- even schools are refusing to admit their children.
Javid Ahmad from Kupwara says he's struggling to get a state subject certificate, a basic requirement for residents of Jammu and Kashmir.
"If you are washed with milk but have come from Pakistan, you are still a suspect. That's why we are facing these problems. They say we have crossed the LOC. You are a suspect, no matter whether you have committed any crime or not,'' says Javid Ahmad.
"As they say even your shadow leaves you when you are facing difficult times. Forget about government's rehabilitation, we are facing identity crisis here," his Pakistani wife Saira says.
For the women who returned with their husbands, it's a battle for survival. They claim all their documents and belongings have been seized by the police.
Saira has started a sewing centre, where she trains other women like herself and also earns a living.
For the relatives, their return means division in the property; for security agencies, these men and their Pakistani wives can't be trusted easily; and for the politicians here, it is a mere issue of rhetoric. However, for these boys who had returned with high hopes, it's a battle for survival.