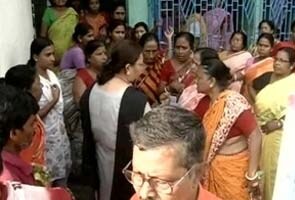 Kolkata:
The chit fund scam in West Bengal is turning neighbour against neighbour and threatening the social fabric of the state.
On Monday, Jagdish Roy, a 60-year-old man, committed suicide at Sodepur near Kolkata after being beaten up and humiliated by his neighbours -- two young women -- who led a mob of depositors and agents of the Annex chit fund, where his son, Bidhan, used to work as an agent.
Till recently the Roys and their neighbours, the Bose family, were good friends. So close that 55-year-old Mira Bose even deposited Rs 2.4 lakh with Bidhan. But relations soured after Bidhan's chit fund went bust last month and Bidhan absconded.
Jayanti Roy, Mr Jagdish Roy's daughter-in-law blamed her neighbours for the tragedy and said, "They tortured him so badly and are responsible for my father-in-law's death. They must be punished severely."
Another neighbour said, "They beat the man, his younger son and daughter-in-law with shoes. Then they went and tied him to a lamp post. They didn't give him a drop of water. They made him stand in the sun for hours. We didn't dare to come out yesterday."
Mira Bose and her daughters say they wanted the money back. Mrs Bose said, "In the past, when there was trouble at their house, we helped them. On Sunday, a small matter happened and he died."
Jhuma Ghosh, her daughter, said, "There were lots of people. We never beat him with a shoe. Another girl from the neighbourhood had slapped him. I had tried to stop that. We never raised a hand against him."
But other neighbours say Mira Bose's daughters and another woman who also lived in the neighbourhood led the mob. They also say they could not help Jagdish as the mob was angry and threatening. They called the police but in vain.
Late on Monday, police arrested Mira Bose's two daughters who Mr Roy's family claims drove him to his death.
In another tragedy related to the chit fund crisis, the owner of a suspected chit fund called Hello India was found dead at his home in Chinsura Monday morning and his family claims he was murdered.
The 48-year-old man, Jayanta Sarkar, was found hanging in a room in his house by his family who had last seen him talking late into the night with three people. His wife, Papiya Sarkar, has named the three people and registered a complaint of homicide with the police.
With his death, the toll of people who have died in connection with the chit fund scam has gone up to at least five.