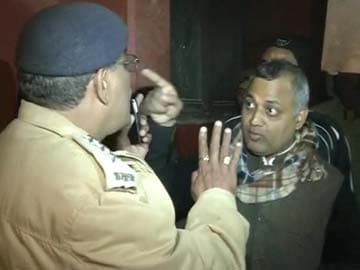 New Delhi:
Arvind Kejriwal's Law Minister Somnath Bharti has been accused of a racist slur in a complaint to the National Human Rights Commission after six African women were allegedly abused in public and taken to the police station on the suspicion that they were involved in a sex and drugs racket, but let off after several hours.
Two of the women, both Ugandan nationals, have complained to the Delhi Police.
The women have shared their five-hour ordeal after their cab was stopped late on Wednesday night by Mr Bharti, who was attempting to carry out raids based on complaints that he had received from residents at Malviya Nagar in south Delhi, which is his constituency.
One of them told NDTV that they were returning from a party a little after midnight when their cab was blocked by the minister and a crowd of local people.
She alleges that they were beaten by men "who were not wearing uniforms."
"They were not wearing a uniform. They were beating us... they beat me in my eye... they beat me wherever...I thought they were going to kill me. After that they took me to the police. The police helped me very well," she said.
Mr Bharti allegedly ordered a police team he had taken along, to frisk the women and search the car for drugs. The police refused, saying they had no warrant and women cannot be questioned after dark without women cops present.
The minister reportedly insisted that they be taken to a nearby temple, for a search, which the police refused. He finally forced the women into a police vehicle and asked them to take them to the AIIMS hospital, where they tested negative for drugs.
Residents of the area praised the minister. "For years, we have complained about a drug and prostitution ring here and have been begging our politicians to help. Only Somnath Bharti came when we called and that too in the middle of the night," said AS Sikander, a resident.