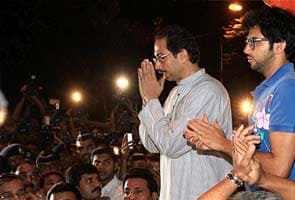 Mumbai:
Just before midnight, Uddhav Thackeray emerged from Matoshree, the house in suburban Bandra where his father, Bal Thackeray, known as "Balasaheb" has 24X7 medical assistance.
To the 500 Shiv Sainiks who were waiting for news of their leader, Uddhav said, "Since yesterday, Shiv Sena chief's condition is stable. I had said yesterday and I will say again today, I have not given up hope. You too must not give up hope because we all are fighting soldiers of a fighting leader. You all are praying for his recovery and I have full faith in your prayers." The executive president of the Shiv Sena had by his side his 22-year-old son Aditya, who heads the Sena's youth wing.
Mumbai began the day on edge with 48,000 policemen asked to patrol the streets. Outside Matoshree, anti-riot squads and the Rapid Action Force stood a few feet from the reporters and cameras who had kept vigil all night.
At 11 am, the city and the Shiv Sena exhaled as party spokesperson Sanjay Raut announced that Mr Thackeray was better and no longer on a life support system.
Mr Raut urged Sainiks not to crowd around the house. Stay calm, he urged.
Maharashtra chief minister, Prithviraj Chavan, consulted top police officers to ensure that Sena strongholds like Lower Parel and Dadar, home of the party headquarters, were well guarded.
Abiding by instructions, the Sainiks' attendance fell considerably on Thursday at Matoshree (compared to the 2000-strong ring that circled the house on Wednesday night).
But VIP politicians and Bollywood stars made appearances through the day, signalling that despite his divisive politics, Mr Thackeray commands the attention of virtually every camp in the city.
The focus in Mumbai has been equally divided between Mr Thackeray's condition, and fortifying the city against violence in case his health worsens.
Most markets and offices, especially those in Bandra and Dadar, home to the Sena's headquarters, remained closed on Thursday. The usually-packed railway stations were empty. The police said this was partly because of the festival of
Bhau-beej
, but acknowledged that traders and others preferred to skip business as a pre-emptive measure against possible vandalism by the Shiv Sena.
At Matoshree, however, it was a day of frenetic activity - an incessant stream of A-listers visited Mr Thackeray. His nephew, Raj, estranged till recently, spent many hours at the house.
Bollywood actors who stopped by include Shah Rukh Khan, Salman Khan, Nana Patekar and Rishi Kapoor. Amitabh Bachchan and his son Abhishek had visited Mr Thackeray last night, as did Sanjay and Maanyata Dutt. Industrialists Venugopal Dhoot and Rahul Bajaj visited him, as did hockey ace Dhanraj Pillai.
The politicians who visited Mr Thackeray included BJP president Nitin Gadkari, the chief minister, and Union minister Sharad Pawar, who is also the chief of the Nationalist Congress party (NCP).