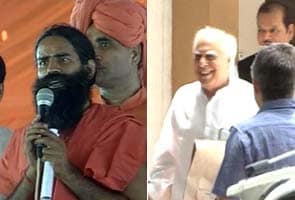 New Delhi:
An hour after announcing that he will go ahead with his plans to launch a hunger strike against corruption tomorrow, Baba Ramdev headed to the five-star Claridges Hotel in Delhi to meet with the two ministers deputed to talk him out of his fast.
(Read: Who is Baba Ramdev?)
Addressing nearly 5000 people at Ramlila Maidan in Delhi, the yoga icon indicated that both sides were stretching towards a breakthrough. "Barring one or two issues, a consensus seems to be emerging between us and the government," he said.
(Watch)
That statement could help the government relax more than the sort of exercises that the Baba regularly demonstrates in his televised yoga sessions for audiences of millions. Kapil Sibal and Subodh Kant Sahay have been assigned to handle Mr Ramdev's charter of demands for what he describes as his "satyagraha against corruption."
(Pics: Ramdev's 'satyagraha')
"Some people have hijacked democracy, given in to corruption," said the Baba at Ramlila Maidan. The crowds that had arrived at dawn for an early workout with Mr Ramdev clapped loudly. "For those who can't make it to Delhi...in 624 districts...we will be sitting on fast from 7am to 9 pm in the evening from tomorrow, that is the 4th. Here in Delhi, I will share the stage with the masses, no separate shelter for me," he said. "This is not a communal or a political movement," he added.
(Watch: Thousands gather to support Ramdev)
Not if the Rashtriya Swayamsewak Sangh (RSS) can help it. The chief of the RSS, Ram Madhav, has instructed cadres "to participate in Ramdev's fight against corruption in Delhi and in districts." Mr Ramdev is accustomed to generating huge audiences. And if he allies with the RSS in his campaign, the government will have to tackle the combined force of an Opposition eager to ride the goodwill that activists like Mr Ramdev generate.
Baba Ramdev's campaign - which urges the government to curb black money and to recover the crores of it that are buried in foreign bank accounts - promises to overshadow the public movement that was launched by Gandhian Anna Hazare in April. Like Mr Ramdev, Mr Hazare used his street credibility to galvanize lakhs of Indians who sided with him as he demanded that the government start work on a new tough law against corruption. Mr Hazare has announced that he will arrive at the Ramlila Maidan on Sunday in a show of solidarity with Mr Ramdev.
But it's really the endorsement of the RSS that is worrying the government. So far, it has bent over backwards to pander to Baba Ramdev - in a gesture that annoyed the Congress party, four senior ministers received Mr Ramdev at the Delhi Airport earlier this week and spent two hours there with him urging him to cancel his fast.
The ministerial posse was criticized by a section of the Congress, including Digvijaya Singh and Mr Hazare, who said the grand gesture was aimed at lulling Mr Ramdev into a false sense of security. "They will trap Ramdev also. They will cheat him. What is the need for so many people to go? It was ok for one or two to go," the Gandhian said.
So after a series of meetings with the Prime Minister and Sonia Gandhi last night, the government has decided that it will continue negotiations with Baba Ramdev but senior ministers like Pranab Mukherjee will not travel to meet him. Instead, two ministers - Kapil Sibal and Subodh Kant Sahay- have been deputed to persuade him to call off his fast. Their talks will focus on a draft that the government has drawn up in response to the checklist that Mr Ramdev has submitted.
That includes the death penalty for corruption, the recovery of black money from foreign accounts and its conversion to a "national asset" as well as the withdrawal of Rs. 500 and Rs. 1000 notes from the market.
The Baba says he's not misappropriating his considerable stature to stray into areas that he may not be familiar with. "I am not crossing the limits of Yoga. Not lying and stealing is also part of yoga and I am trying to bring those who have crossed that limit back within the limit," he declared.