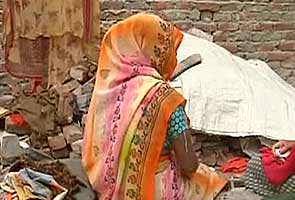 New Delhi:
Raped and brutalised, but too young to get her attacker behind bars - that is the story of a child who has been denied justice for nine long years.
In 2003, at the age of four, this little girl was attacked and raped, allegedly by her neighbour. She was so badly brutalised, that she had to be treated in hospital for two years.
The 45-year-old accused was caught on the mother's suspicion and was even identified by the child in court. But he was let off, all because the 4-year-old could not answer questions in a cross-examination in court.
Nine years on, the man has been acquitted again. Last week, the Delhi high court agreed with the trial court's verdict, and noted: "There is a possibility of tutoring a child witness. Suspicion, however strong, cannot take the place of proof."
After a long, thankless battle for justice, the girl's mother is shattered. "She was a little girl, what could she have said?"
Investigators had even found blood-stained clothes in the alleged attacker's room and, based on the accused man's own information, in the park. But the evidence could not be connected to the case and no DNA match was found.
"The police asked me whether these were my daughter's clothes, I said yes," said the mother.
The girl, now 13, still needs treatment for her injuries, but her emotional scars may never go away.
As this family comes to terms with yet another legal disappointment, the case begs the larger question - can a minor rape victim, especially one as young as four, be subjected to cross-examination in an open court?
Earlier, it was up to the judge. The law said if rape victims can understand the questions, they can be examined in open court.
But new laws drafted after objections by child rights activists, recommend a more child-friendly approach.
The Prevention of Child Sexual Offences Act of 2012 says: "A child's statement should be recorded at home or at a place the child is comfortable and it has to be recorded as spoken by the child."
In recent rulings, the High Court and the Supreme Court have said children should be cross-examined in the judge's chambers.
"Minor rape victims are cross examined because it has to be brought on record," says SS Ahluwalia, who assisted the court in this case.
But rights activist Ranjana Kumar questions this logic. "The child's statement at the time of the incident should be considered admissible in court and should be the only statement considered."