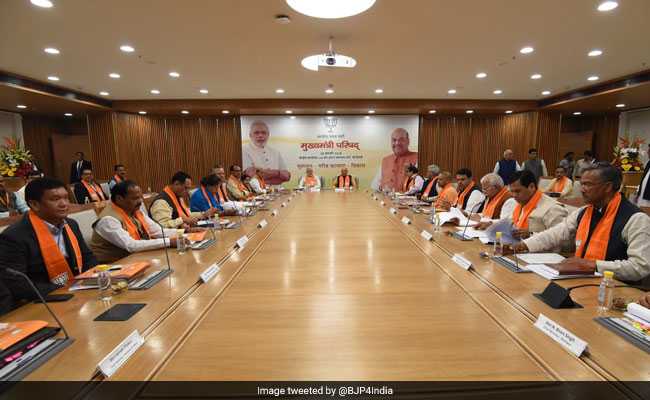 New Delhi:
Simultaneous elections from panchayat to parliament were on Wednesday discussed at a meeting of BJP Chief Ministers and Deputy Chief Ministers from 19 states, party leaders said.
"Bharatiya Janata Party President Amit Shah heard our suggestions on how to go about simultaneous elections to the Lok Sabha, state Assemblies, urban and rural local bodies at one go. He is studying the issue, which is very important for the country," Chhattisgarh Chief Minister Raman Singh said.
The meeting was held at the BJP headquarters in Delhi.
He said round-the-year elections at one or the other state and consequent enforcement of model code of conduct hampers develomental works.
"This cannot happen in one day, but there should be an effort to generate awareness. With close cooperation between the states and the Centre, the country should try to hold simultaneous elections from panchayats to Parliament by 2018-19 or by 2022," said the senior BJP leader after the Chief Ministers' Council meeting.
Raman Singh said the council is a good platform for sharing best practices and states can learn fron each other on better ways of tackling issues and executing various projects and schemes.
This was the third Chief Ministers' Council meeting after the ones on August 21 and September 25 last year.
The meeting was initially chaired by Amit Shah and later by Prime Minister Narendra Modi. Central Ministers Rajnath Singh, Nitin Gadkari, Arun Jaitley, and Shushma Swaraj also attended.
Other issues discussed at the meeting were review of major schemes and some sectors in different states pertaining to housing, electricity, agriculture, and health.
The members also discussed ways to strengthen the BJP in different states ahead of coming polls and the 2019 Lok Sabha polls.
(Except for the headline, this story has not been edited by NDTV staff and is published from a syndicated feed.)