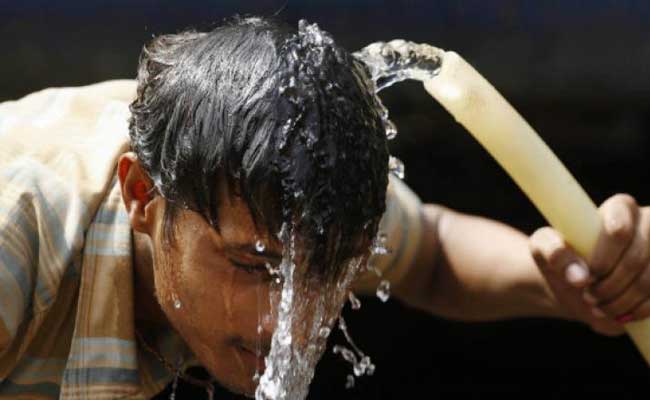 Bhubaneswar:
Odisha's Titlagarh became the hottest place in the country with maximum temperature recorded at scorching 47.5 degrees Celsius.
Titlagarh, which recorded 47 degree Celsius yesterday, witnessed the mercury rising further to 47.5 deg Celsius today.
"Titlagarh in Odisha's Bolangir district is the hottest place in the country with temperature recorded at 47.5 degree Celsius. Besides, three places in the state also recorded temperatures at or above 46 degree Celsius," Indian Metrological Department director Sarat Sahu told Press Trust of India.
Titlagarh was followed by Sonepur (46.3 degree Celsius) and 46 degree Celsius each at Sundergarh and Bolangir town in western Odisha.
As many as nine towns in the state experienced temperatures above 44 degree Celsius, while 15 districts had mercury level hovering above 40 degree Celsius.
Other places which bore the brunt of unbearable heat were Angul (45 degree Celsius), Sambalpur (45.2 degree Celsius), Hirakud (45.5 degree Celsius), Bhawanipatna (44.5 degree Celsius) and Jharsuguda (44.8 degree Celsius). Bhubaneswar recorded 40.5 degree Celsius with relative humidity at 89 per cent, the MeT office said.
The IMD in its bulletin said heatwave conditions prevailed at most places over interior parts of Odisha and at one or two places in coastal region with severe heatwave conditions at one or two places over south interior districts.
"Weather has been dry over Odisha. There was no large change in the maximum temperatures. They were markedly above normal over north interior Odisha, appreciably above normal over south interior Odisha, above normal over north coastal Odisha and normal over south coastal Odisha," the bulletin said.
In its forecast, the IMD said heatwave conditions were likely to continue at a few places with severe heatwave at isolated places on both April 23 and 24.
A release issued by the office of the Special Relief Commissioner (SRC) said the number of deaths allegedly due to sunstroke increased to 73 in the state.
"Of the 73 allegations, two death cases have been confirmed due to sunstroke," SRC PK Mohapatra said adding 46 other cases were under examination by the district collectors.