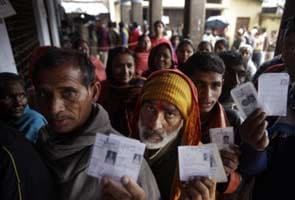 New Delhi:
Five states including Delhi, Madhya Pradesh and Rajasthan will complete voting by December 4, and the results for all will be declared on December 8, the Election Commission said today.
The state elections are being seen as the semi-final ahead of the national election, due by May.
Chhattisgarh alone will vote on two days; Delhi, Madhya Pradesh, Rajasthan and Mizoram will hold elections in one phase.
Three of these states are currently held by the Congress, two by the BJP.
"We look forward to healthy and spirited elections," tweeted Narendra Modi, the BJP's Prime Ministerial candidate and star campaigner for these elections.
For the first time, Indian voters will exercise the Right to Reject candidates - a rule cleared by the Supreme Court recently. So the 11 crore voters in these five states will have the option of using the None of the Above button in electronic voting machines.
The model code of conduct is now in effect, the Chief Election Commissioner VS Sampath announced, which means that incumbent governments cannot announce any policy decisions that could influence voters.
In Delhi, Chief Minister Sheila Dikshit, who has served three consecutive terms, said, "We will fight the elections with confidence, our achievements are seen and felt by people. The development is visible." Anti-corruption campaigner Arvind Kejriwal's party, the Aam Admi Party, AAP, makes its debut in this Delhi election. The BJP has lost the last three state elections.
In Rajasthan, it's the BJP's Vasundhra Raje Scindia versus the current chief minister, Ashok Gehlot of the Congress.
In Madhya Pradesh, Chief Minister Shivraj Singh Chouhan will ask voters to bring the BJP and him back to power for an third consecutive term. Challenging him is the Congress led by Jyotiraditya Scindia.
Chhattisgarh is also important for the BJP, where its Raman Singh was elected 10 years ago as chief minister.
In Mizoram, the ruling Congress is hoping to retain power.
States
Seats
Polling
Phase 1
Phase 2
Chhattisgarh
90
11 Nov 2013
19 Nov 2013
Madhya Pradesh
230
25 Nov 2013
Rajasthan
200
01 Dec 2013
Delhi
70
04 Dec 2013
Mizoram
40
04 Dec 2013
Date of Counting
08 Dec 2013