Highlights
Manohar Parrikar has been a two-time Chief Minister of Goa
He was elevated to the Union Cabinet as Defence Minister in 2014
He could make a comeback in state politics following the Goan election
Panaji:
Defence Minister Manohar Parrikar was an early voter in Goa capital Panaji today. He had queued up before polling booths opened and was done by 7:10 am. He then told reporters, who have had just one question for him for weeks, "I have lost 4 kg in Delhi because of the food. I like Goan food. You can interpret this the way you want."
Goa is abuzz with speculation that Mr Parrikar could return to the state as chief minister if the BJP is re-elected. Top BJP leaders like party chief Amit Shah and union minister Nitin Gadkari have while campaigning hinted that a Parrikar comeback is not ruled out. Mr Parrikar has refused to comment on what he calls "mere assumptions" but seems to enjoy handing out abstract statements like he did today.
Goan Fish Curry over Butter Chicken of course, he said today, also stating that he is a "party man, let the party decide." Mr Parrikar was chief minister when he was called up for union cabinet duty to New Delhi. He installed in his place loyalist Laxmikant Parsekar, who has struggled to fill Mr Parrikar's big shoes.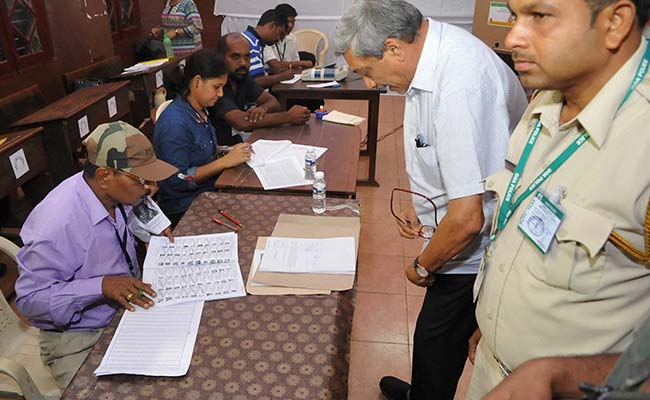 Mr Parrikar, who has a big following in Goa and considered key for BJP to be re-elected, has been in the coastal state for the last few weeks to craft the BJP's campaign strategy and oversee its execution.
The BJP is seen to be keeping voters engaged with its guessing game as it attempts to replicate its win of 2012. Five years ago Manohar Parrikar had led the party to victory with strategic alliances. The Defence Minister, who has been Goa chief minister twice, remains the BJP's most popular leader in the state and is called the "super chief minister."
This year BJP and regional party MGP are fighting separately; the MGP has tied up with two other parties including one led by Subhash Velingkar, who was sacked by the Rashtriya Swayamsevak Sangh or RSS, the BJP's ideological mentor, and has vowed revenge against the party.
It also has to factor in Arvind Kejriwal's Aam Aadmi Party that debuts in Goa this time, fielding a popular former bureaucrat Elvis Gomes as its chief ministerial candidate. There is also the Congress which has tried to consolidate after losing the state to the BJP in the last election.
"It is a four-cornered contest, but three corners are very weak," Mr Parrikar said sticking to his assessment that the BJP will get a two-thirds majority. The party had won 21 of the state's 40 seats last time. It is contesting 36 seats this year. The four seats have independent candidates backed by the BJP.
Mr Parrikar said he expects the voter turnout to cross 85 per cent this time. By 11 am that seemed possible with 34 per cent votes cast in brisk polling. The Defence Minister claimed credit. "Goa votes very heavy and this is a speciality that the BJP has inducted in the politics of the state. Initial indications are good," he said.
Votes will be counted for today's election on March 11, along with four other states.