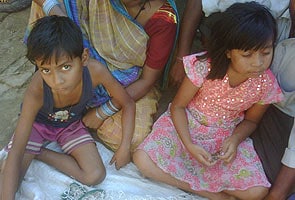 Guwahati:
Siblings Anjali and Manoj, students of Class 4 and 2 respectively, were orphaned on Monday. They watched as their parents were shot dead by Bodo militants in their small village, Belsiri, in Sonitpur district of Assam.
Their parents were among 19 people massacred since last evening by the Bodo militant outfit NDFB in nine attacks across Sonitpur district. Nine people have been injured. In some cases, bus passengers were lined up and shot dead. Most of those killed were Hindi-speaking people.
The NDFB had earlier threatened to kill 20 civilians for every member of their cadre that they lost in encounters.
Anjali and Manoj witnessed their parents being shot dead near their grandfather's barber's shop in Belsiri. Their grandfather, Ramji Thakur, settled decades ago in Assam. The children are now with relatives at a nearby tea-garden, their trauma unimaginable.