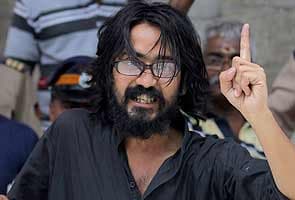 Mumbai:
Cartoonist Aseem Trivedi has been sent to jail by a Mumbai court till September 24 on charges of sedition. He can apply for bail, but has said he will not. The 25-year-old cartoonist wants the charge of sedition against him dropped.
(Comment here)
The court order remanding the cartoonist to judicial custody came after the Mumbai police, who arrested Mr Trivedi on Sunday, told the court today that they were done with questioning him and no longer wanted him in their custody. The Mumbai court had on Sunday ordered him to be held in police custody until September 16 for offences under sedition and information technology laws.
Mr Trivedi's stand refusing to apply for bail will embarrass the police and the government, already being slammed by media and anti-graft activists, who have described his arrest as evidence of a lack of respect for freedom of expression.
The cartoonist was produced in court a short while ago, and has been quoted by his supporters as saying, "If telling the truth makes me a traitor then I am one." Before being taken to jail on Sunday after a private complaint from a Mumbai-based lawyer, he had said, "If I am booked under sedition for doing service to the nation then I will continue to do so," he added.
Mr Trivedi's supporters allege that he is being targeted by the government for supporting activist Anna Hazare's anti-corruption movement. Some of his cartoons were displayed at recent protest camps organized by Anna and his aides.
Minister for Information and Broadcasting Ambika Soni said today that disrespect for the national symbol could not be taken lightly. "We are not against democratic rights, we are all for free speech...people have made cartoons of Nehru, Indira earlier. But there is a thin line you draw between free speech and what can be termed as offensive especially against national symbols."
The cartoonist, who has also been accused of hosting obscene content on his website, has controversially depicted the national emblem of India replacing lions with wolves with blood dripping from their mouths, suggesting that corruption is devouring the nation. A Mumbai police inspector explained, "He has shown disrespect to the national emblem and therefore he has been arrested."
Anti-graft activist and a prominent member of India Against Corruption Arvind Kejriwal today said, "The way depictions were made in them (Aseem Trivedi's cartoons) was very wrong. But this does not make for a case of sedition."
(Watch)
Mr Trivedi's supporters today staged protests outside union minister Sriprakash Jaiswal's house in Kanpur, the cartoonist's home-town. The protesters shouted slogans and demanded that Mr Jaiswal, who is the local MP and the union coal minister, intervene.
"A lot of my workers from Kanpur and Unnao met me and made this demand that there is some Aseem Trivedi who has been arrested by the Maharashtra Police. Now I will try and find out on what charges he has been arrested, what exactly has happened, and only then I would be able to comment," Mr Jaiswal said today.
"What was so different with Aseem Trivedi? He said thru cartoons what many others say about governance or lack of it in columns every day," tweeted S Irfan Habib.
Mr Trivedi was scheduled to visit Syria starting September 12 to receive the 2012 Courage in Editorial cartooning award.
(With inputs from Agencies)