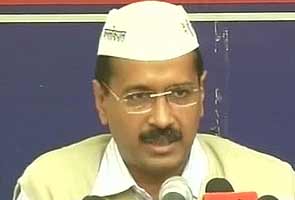 New Delhi:
Breaking the suspense Arvind Kejriwal opened another can of allegations today, this time claiming to have details of black money stashed away in Swiss bank by top industrialists and even a politician reportedly 'close' to Rahul Gandhi.
This press conference comes after Mr Kejriwal alleged scandals involving Robert Vadra, Salman Khurshid, Nitin Gadkari and the Mukesh Ambani-led Reliance group.
This time Mr Kejriwal addressed the press conference flanked by Prashant Bhushan and Manish Sisodia.
Highlights of his press conference:


When we had done the previous expose, BJP said we have a 'weekly market of exposes'
I want to tell them - there are so many scams that a weekly market will not do - a daily one is needed. (Read: Press note on India Against Corruption website)

The day there was a reshuffle I got a message from a senior Congress leader - saying we should stay on the Robert Vadra case.
The expose today - the information we first got from a senior Congress leader. We further investigated the facts he had mentioned.
The paper we will present today suggests that black money in Swiss banks can return to India but will not since the govt is in cahoots with criminals.

The present CBI director estimates there are over 500 crores stashed abroad.
We got a CD - HSBC's Geneva branch has 700 accounts of Indian nationals. That list is available with the government with the amounts in the accounts in December 2006.
We do not have the full list but we have some names- Mukesh Ambani has Rs 100 crores.

Anil Ambani has Rs 100 crores
Sandeep Tandon - former IRS, ED official - who raided Reliance has Rs 125 crores
Reliance Industries Rs 200 crores
Sandeep Tandon's wife Anu, who is now Congress MP from Unnao - and a member of Rahul Gandhi's core group - has Rs 125 crores.
Motech Software Private Ltd (Reliance Group company) - Rs 2,100 crores
Kokila Dhirubhai Ambani has an account but in December 2006 it had no balance.
Naresh Goyal has Rs 80 crores.

From Dabur - 3 members have accounts - totalling Rs 25 crores.

Yashovardhan Birla has an account but in December 2006 it has no balance.
CBI had said there is Rs 25 lakh crores - these 700 names account for only Rs 6000 Crores.
In 28 July 2011, the Income Tax (IT) Department raided three people in Delhi based on this list.

All the three confessed - and we have the statements given by them to IT department here with us.
Opening an account in a Swiss bank is easier than opening an account in SBI Bank. For a Swiss bank account you need to just make a call. for an SBI account you need to visit the branch. This is real easy - why would you have an SBI account - just go to a Swiss Bank.
On what basis did the them Finance Minister Pranab Mukherjee decide who were raided and who weren't?
Why weren't Dabur or Birla or the Ambanis raided? Pranab Mukherjee may be President but he must answer.
Finance Ministry sources say that Mukesh Ambani met Finance Minister and said " they were prepared to pay tax to buy peace."
Even Mukesh Ambani must explain how the Rs 100 crores reached Swiss bank, how the account was operated - do they indulge in hawala transactions? And if they do then they should have been arrested.
All the people - they should furnish all details of their accounts - all the debit entries must be checked.
We would then know who all were bribed by money paid out from these accounts.
We demand a raid immediately be carried out on Mukesh Ambani, Anil Ambani, Naresh Goyal, Yash Birla and the three Dabur brothers - and if hawala is proved, they should be arrested.
Voluntary Disclosure Scheme (VDS) was designed to save these 700 people.
How does the government know this isn't black money? Did they dream it up?
I am revulsed at how the Government of India is saving such criminals.
In Parliament the government denied that it is offering amnesty to wealthy citizens in reply to Gurudas Dasgupta's statement.

The government lied in Parliament that it had info of Rs 565 cr - we know there was info of Rs 6000 crores and they have recovered only Rs 181 crores.
HSBC is promoting kidnapping, corruption and terrorism in India by facilitating Hawala.

In Pakistan, if someone wants money to reach India, they can do it through HSBC.
In July, the US government realised that HSBC had some transactions which was making US vulnerable to drug , terror and illicit money. In that probe, they realised that HSBC operations in India were suspect.

The Union Government gave a clean chit to HSBC employees in one month.

The Manmohan Singh government has become a threat to the economic sovereignty of India.

The UBS bank shared a list of account holders with the US government - if the government wants HSBC and UBS operations in India can be shut down and their bosses arrested.
HSBC's top officers should be arrested and cases should be made out for waging war against India.
HSBC's operations in India should be suspended - they should be forced to make a disclosure of accounts held by Indians - and the government should make it public.

Prashant Bhushan then took over the press conference: Highlights of what he said.
To those people who have been accusing us of hit-and-run tactics, the sheer scale of corruption is such that even one expose a week not enough.
We are exposing cases that point to a systemic problem in the country.
This is only the tip of the iceberg - the accounts in HSBC are a small proportion of accounts held by Indians abroad.
Then entire ruling establishment is working at the behest of powerful people like the Ambanis.
Arvind Kejriwal speaks again
How do your investigative agencies function? When HSBC apologises, is that the end of the investigation?
Send the rest of them to HSBC, they will get an apology too.
Is this a criminal investigation, can the government say that because the bank apologized, there should be no investigation.
Banks are notorious for masking the identity of owners.
Mukesh Ambani says Congress is in his pocket. I think any government that comes into power is in his pocket.