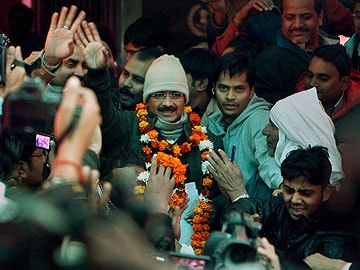 New Delhi:
A day after Arvind Kejriwal became Delhi's chief minister, his father on Sunday held a 'havan' or sacred ritual at a temple near their house -- to pray for his son's health and success.
Govind Ram Kejriwal, a retired government servant, held the ceremony at a small temple he frequents near the Girnar Tower in Ghaziabad's Kaushambi township.
The senior Kejriwal said he wanted Arvind Kejriwal to join the 'havan' but the latter, being unwell, could not. He said he wanted his son's health -- the chief minister has been coughing away for days -- should improve and he should also be able to fulfil the promises he has made to the people.
"I held the havan to thank god," he said.
He described Kejriwal becoming the chief minister as "people's victory". He added that his son, a former income tax official and an activist, had "strong will-power".
"They (AAP) have just started preparations for the Lok Sabha election. Many good leaders have come and met us," the senior Kejriwal said.
Will Arvind Kejriwal become the prime minister one day? "It is god's decision who becomes the PM," the father replied.
Kejriwal senior had offered prayers at the same temple before his son's swearing-in ceremony on Saturday.
Get Breaking news, live coverage, and Latest News from India and around the world on NDTV.com. Catch all the Live TV action on NDTV 24x7 and NDTV India. Like us on Facebook or follow us on Twitter and Instagram for latest news and live news updates.