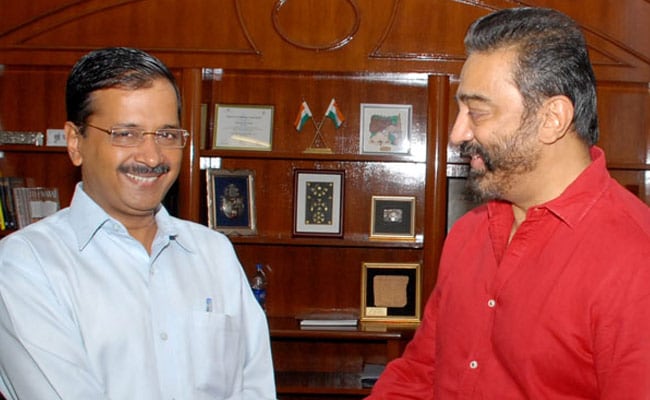 Chennai:
Actor-turned-politician Kamal Haasan, who is all set to launch his political party in Tamil Nadu, will begin a state-wide political tour on Wednesday. The tour will begin from the home of late President Abdul Kalam at Rameswaram and culminate in Madurai, the state's cultural and political capital, where he is likely to launch his party's flag. Delhi Chief Minister Arvind Kejriwal will attend his public meeting in Madurai and is likely to address the meeting, said Mr Haasan's team. Mr Haasan would also address public meetings at Ramanathapuram, Paramakudi which is his hometown, and Manamadurai in Sivaganga district.

The political tour has been christened as "Naalai Namadhe" which means "tomorrow is ours" and is the title yesteryear actor and late chief minister of Tamil Nadu, M G Ramachadnran, popularly called as MGR. A 'Naalai Namadhe' anthem has also been released by Mr Haasan.

While Mr Haasan is taking on the Dravidian arch rivals, he has chosen to stick to the Dravidian identity for his brand of politics. "Dravidian is our identity, and it will give the southern states a leverage with the Centre," the actor had said last month.


Ahead of his party launch, Kamal Haasan met actor-turned-politician Rajinikanth and DMK chief Karunanidhi and DMDK chief Vijayakanth. Mr Haasan has also invited Rajinikanth to the rally on February 21, but the two are non-committal on party alliance.
Responding to questions on why he did not meet anyone from the ruling AIADMK, Mr Haasan took potshots at the ruling party and said, "I am taking the political plunge only because the AIADMK government is bad. That's why I'm not meeting them."

In his keynote address last week at the annual Indian conference of Harvard University, Mr Haasan announced a plan to adopt a village in every district of his home state Tamil Nadu "with the vision to make them 'the best villages in India and later why not in the world". Development and fighting corruption will be the core issues of his party, Mr Haasan had said.