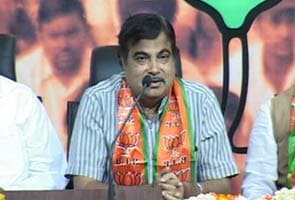 New Delhi:
Activist-politician Arvind Kejriwal today targeted BJP president Nitin Gadkari over his alleged business links in a press conference in New Delhi. Mr Kejriwal said the BJP president colluded with the Congress-NCP government in Maharashtra for his business deals, that directly worked against the interests of farmers of Vidarbha.
Here are the latest reactions on the story:
Arvind Kejriwal, activist-politician (at the press conference):
Mr Gadkari took away land of the farmers and their water... he has sympathy for the contractors but not the farmers.

Nitin Gadkari, BJP President:
The allegations are baseless, wrong and unfortunate...I have been working in the area as a social enterprise for the benefit of farmers...The allegations of land (grabbing) are absurd. Land has been given on lease to a charitable trust which functions like a cooperative. It is not owned by me.
Congress' image is going down due to corruption cases and they (IAC) are trying to defame BJP to occupy the opposition party space which belongs to us. This is a conspiracy of Congress and IAC to divide the opposition votes.

Arun Jaitley, Senior BJP leader:
The land was acquired 22 years ago, the compensation has been given, so where is the illegality. They made a mountain of what was not even a molehill. They have damaged their own credibility, scored a self-goal. An organisation which calls itself the crusader has to be careful. Now they are a political party.

Sushma Swaraj, Senior BJP leader:
A lot of hype was created about the press conference as if some big bomb is being exploded... He (Kejriwal) tried his best to dig out some scam but could not find anything. We are happy that our national president is not involved in any scam. The party is fully with him. He (Kejriwal) just was left to ask for votes to turn the press conference into an election rally.
Digvijaya Singh, Congress General Secretary:
I have always held that Mr Gadkari is more interested in amassing wealth than politics. If you examine his increase in assets, you will find a straight correlation to the day he became a minister in Maharashtra.


Manish Tewari, Congress Spokesperson:
The interesting thing is not which BJP leader was named in the press conference. The interesting thing is the BJP leaders who were excluded from the press conference. What has been established conclusively today that these gentlemen who call themselves IAC validated the charges I made... It is now clear which faction of the BJP they belong to.

Majeed Memon, senior advocate and NCP member:
Two weeks ago, I was in your debate with Anjali Damania making same allegations. This is hardly anything new. We have debated this. Some kind of sensation has been created and media thought we could get some spice out of this.

Sanjay Jha, Co-Founder, Hamara Congress.com:
This is a collusion between the IAC and the BJP. There is nothing new that Mr Kejriwal said today. We all knew this. Now, after this Mr Kejriwal will say - 'See, I am not anti-Congress. I am all balanced out.'

Rashid Alvi, Congress:
Today some serious allegations have been made on the BJP leadership. These are the same people who always celebrate when allegations made on us. Today they have to reply to the country. We will respond after they react.

Preeti Menon, India Against Corruption:
The land has been taken over by Mr Gadkari's henchmen and they have planted soyabean there. What sugarcane saplings are we talking about? We have a lot of data which we are researching. We are talking about an area where farmer suicides are happening; instead of making dams there we are building dams where sugar and power industry.