Bhopal:
Highlights
Arunima Sinha says she was stopped twice inside Mahakaal temple
She alleged that temple authorities said she was improperly dressed
District administration ordered to conduct an inquiry into the matter
Arunima Sinha
, the first amputee to scale Mount Everest and a former national-level volleyball player, said she was not allowed to enter one of the key shrines in Ujjain and was "mocked" about her disability. The athlete - whose leg was amputated after she was pushed out of a running train while resisting a robbery attempt six years ago -- broke down after she was stopped twice by security personnel when she tried to enter the sanctum sanctorum of the Mahakaal temple.
Ms Sinha told NDTV that she had decided to visit the temple, one of the 12 holiest shrines to Lord Shiva, during a visit to Burhanpur, nearly 330 km from state capital Bhopal on Sunday. But the temple authorities, who were alerted about her visit, did not allow her to enter the shrine, saying she was improperly dressed.
"They stopped me over my clothes... I was wearing a lower and a jacket. I showed them that I did not have a leg and said I would take only a minute, but they did not let me enter," she said.
"It was really sad. I've never faced such problems even on the mountain. They were almost going to shove me out," she said.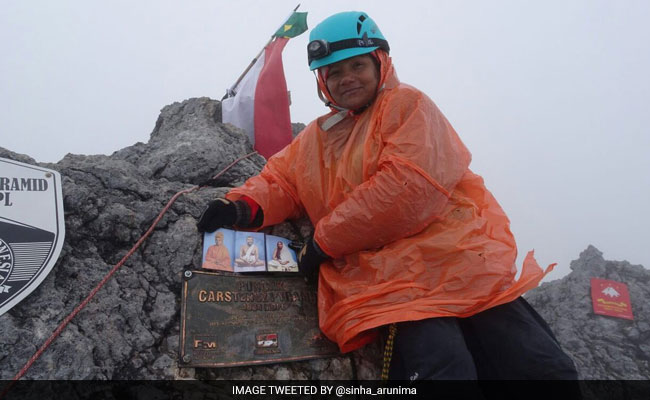 In a post on Twitter, tagging the Prime Minister's Office and the Chief Minister's Office, the athlete said: "I am very sorry to tell you that I felt greater pain in visiting Mahakal temple (at Ujjain) than scaling the Everest. My disability was mocked at there (at Mahakal)".
Madhya Pradesh Home Minister Bhupendra Singh said the district administration has been asked to conduct an inquiry into the matter. "You are the pride of India and you are welcome in Ujjain, the city of the Lord Mahakal," he said in a tweet.
Mahakal Temple's administrator Avdhesh Sharma has said he came to know about the incident only through media reports. "Arunima has not filed any complaint with the police or the temple administration," he was quoted as saying by news agency Press Trust of India. The authorities will look through CCTV footage to "identify the guilty", he said.
Cabinet minister and government spokesperson Vishwas Sarang said Ms Sinha was most welcome in the state. "But there is a decorum when you want to enter sanctum sanctorum... It's a matter of faith and everyone should follow that," he said, adding that the government will ensure that she is allowed to offer puja on her next visit.
Arunima Sinha was honoured at the NDTV Youth for Change Conference earlier this year.
Watch her video here: