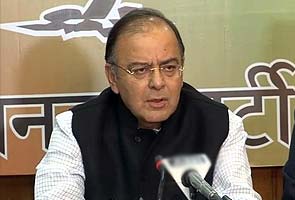 Shimla:
Keeping the pressure up on the Congress after NDTV's expose, the BJP today accused Virbhadra Singh of corruption, forgery, money laundering and faking income tax records. It also demanded a special investigation team (SIT) to investigate the allegations, since it didn't "trust the CBI".
NDTV had aired a list of payments allegedly made to steel ministry officials by the Ispat Group which manufactures steel, at the time when Mr Singh was the steel minister. The list was found by income tax authorities during a raid.
(The VBS bombshell: ISPAT payoffs to steel ministry?)
Among names was a 'VBS', which the BJP says is Mr Singh. NDTV has not been able to independently verify this. Mr Singh denied recieving any money, saying that he initialled his name as VS, not VBS.
(NDTV expose: The VBS files)
"The issue is not whether the minister puts his initials as VS or VBS," BJP's leader of opposition in Rajya Sabha Arun Jaitely said in Shimla. "What we need to investigate is what those entries mean. It is a money trail, from Mumbai to Shimla. Unaccounted money finds its self in a ghost account and Veerbhadra and family are beneficiaries. The list of names was found 22 months ago. Why has there been no probe so far?"
New allegations emerged today against Mr Singh, pointing to the possibility that money he has denied receiving from Ispat was actually routed through an LIC agent in Shimla into a bank account and then turned into legal money which he then used to buy insurance policies for Mr Singh and his family.
"A sum of Rs 6 crore in cash has been converted into cheques and single premium policies were bought in the name of four people - Virbhadra Singh, his wife and two children," Mr Jaitley said. When asked about the source of his information, he said he was quoting media reports.
Mr Jaitely also claimed that Mr Singh had filed two sets of income tax returns to camouflage the money that ISPAT allegedly gave him and backdating an agreement with one Bishambar Das to manage his apple orchards. He also said that the BJP didn't trust the CBI to probe these allegations, since its own name has appeared on the list of alleged pay-offs by the Ispat group.
He also took a shot at Congress president Sonia Gandhi, who shared the stage with Mr Singh at an election rally in Himachal Pradesh. "If Sonia Gandhi was not aware about the charges against Virbhadra Singh, then she should not have shared stage with him and if she was aware then it she should not have spoken on corruption," Mr Jaitely said, adding that Mrs Gandhi must realise she will be judged by the company she keeps.
Himachal Pradesh goes to polls on November 4.
The BJP's attack follows allegations against its president Nitin Gadkari, who has been alleged to have grabbed land meant for farmers and getting illegal funds for several companies that he fronts. Mr Jaitely said that Mr Gadkari was open to any probe and has denied all the allegations