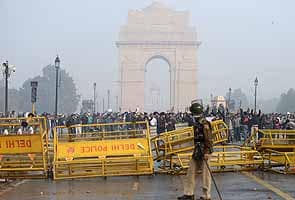 New Delhi:
Nishtha Gautam, 27, is a lecturer at Delhi's Lady Shriram College. She was at Sunday's protests at India Gate which erupted in violence. This is her account.
"Do you even know what they did to this girl?" shouted an angry protestor when a policeman told her to not waste her time sloganeering in freezing cold last night. Defiance, pain, anger and a will to make their voice heard: this one statement encapsulates the mood at Raisina Hills. Yesterday I was a little late in joining the protest due to some editorial and family commitments. When I reached Vijay Chowk at 1 pm, the first round of water-cannon and tear-gas firing was already over, along with laathi-charge. Hurt and indignant protestors had reorganized themselves with an even firmer resolve. But this time they were more careful about not offending the police. A human chain was formed ahead of the police barricading to restrain the zealous lot.
For the next one hour some volunteers took it upon themselves to keep the protest peaceful. I, along with some students of Shaheed Bhagat Singh College, tried to make people sit and protest instead of stand and be aggressive. Most of us agreed and understood that it would be counter-productive to provoke the police. There were some fervent voices, however, who cried "
Baithne se kuchh nahi hoga, todo aur age badho
!" They seemed to sway others for a while but by and large the protest remained peaceful. In the meantime people with party affiliations came and tried to peddle their own agendas. One gentleman could be heard shouting, "Ye Hindustan
hai, yahaan sab hindu hain
." The student wings of some political parties were aggressive in their demand that we must disregard all considerations for law and confront the police. Fortunately, majority of student protestors did not listen to them as they had already faced laathis and tear gas in the morning and anticipated a worse crackdown.
While trying to calm the agitated students, I lost my mind more than once. Many young boys were shouting expletives, the usual maa-behen. Police
ki maa
..., Sarkaar
ki behen
... - a bizarre sense of support. I gave them a piece of my mind and alerted them to the fact that we all were gathered there to demand respect and security for women in this country. If we use gender centric expletives, we are as much at fault as the rapists. Both are a blow to a woman's dignity. Some understood and some smirked. Next, there was this angry woman who was rousing the young boys to storm the barricading and beat up the policemen. She ridiculed the human chain volunteers. I told her that she would be the first one to vanish during the next laathi charge. I later found her hob-nobbing with some local political touts who were full of self-importance. My guess is that there was a conscious effort to provoke the protestors to defy the law.
A few minutes later I saw three plastic bottles and some paper balls being thrown at the police. As if on cue, the RAF personnel charged at the protestors. The first one to get beaten up was a girl who was sitting on a parapet with a placard in her hands. At least four laathis must have landed on her. Tear gas shelling followed next and for fifteen minutes there was chaos at Raisina. Protestors were shouting, "Are we terrorists?" and "It is just us that you can bully around with since you are impotent against criminals." Some truth in that outburst for sure. As an eyewitness, I can vouch for it that this round of laathi-charge was totally unprovoked. You cannot respond to some paper-balls and plastic bottles with laathis and tear gas.
Nothing deterred the protestors and they gathered again. Some angry men who saw the girl getting harsh beating were baying for the police personnel's blood. They had to be restrained and some youngsters did a fairly good job of it. At that moment I noticed a couple of gentlemen with heavy iron poles. This was dangerous but fortunately they gave up their "arms" after some persuasion. There were almost fifty such poles (used for barricading I think) lying in the lawn. I talked to many policemen to have them removed and each one of them snubbed me with "This is not our job, talk to civil authorities." Now, this is what ails our system: not realizing grave potential danger and nit-picking about whose job it is. I requested some of the young men who gladly helped me in shifting those poles which could have been used by the angry mob.
An hour later five women and two men were taken inside the barricade to draft a memorandum for the Home Minister. The police had realized that the protestors were angry because nobody from the government cared to address them, assure them. I was a part of that delegation and oldest of them all, or at least I looked like that. Senior police officials wanted to make us intermediaries between the government and the protestors. All of them were sympathetic towards the protestors' sentiments and yet they had to maintain law and order. The onus to reassure the crowd was not on our men and women in uniform and yet they tried to go that extra mile by facilitating this meeting.
After waiting for more than four hours we went to the Mr Shinde's residence where he met us accompanied by his MoS, Mr RPN Singh. The Home Minister started off on an emotive note by saying how he and the MoS were also fathers concerned about their daughters' safety. He told us that a judicial commission had been set up and assured us about fast tracking of this case. He also told us about the upcoming police reforms, "You will witness a sea-change." Nevertheless, he remained non-committal about addressing the protestors directly. Interestingly, he was more concerned about the arrival of the opposition parties at the venue *if* he decided to go to Raisina. "If these people come, it will be uncomfortable for us." I have no words to express the shock and pain I felt at that moment. The Home Minister wanted us to convey the message to the crowd. Later, when we tried to do that, we were rightly snubbed by the fellow protestors who asked, "Why can't the government representatives come here and address us directly? You are one of us, why should we pay attention to what YOU say?"
I left the venue at 9 pm leaving behind at least one thousand people at the Raisina Hills. In that freezing cold men, women, children were holding ground to express their angst against the arrogance of a political leadership that refuses to connect, respond and give reassurances to them.
Arrongance versus angst, and we are left with no winners.
Disclaimer: The opinions expressed within this blog are the personal opinions of the author. NDTV is not responsible for the accuracy, completeness, suitability, or validity of any information on this blog. All information is provided on an as-is basis. The information, facts or opinions appearing on the blog do not reflect the views of NDTV and NDTV does not assume any responsibility or liability for the same.