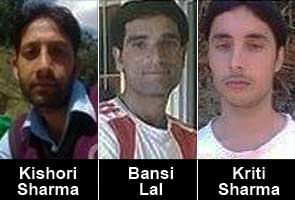 Kishtwar:
In Jammu and Kashmir's Kishtwar district, three men have spent over 40 days in jail. Their crime - they were tagged in an allegedly blasphemous video on Facebook and one of them had commented on it.
Kishori Sharma, Bansi Lal and Moti Lal Sharma were arrested on October 29 this year. They have been charged with desecrating religious symbols, and inciting communal hatred using Information Technology, under the controversial section 66 (A) of the IT act - much like the two young girls arrested for a Facebook post against the Mumbai shutdown in the memory of Bal Thackeray.
"The police told the parents that they will give them a clean chit and release the three but that was all done just to maintain law and order and the three remained under arrest," said Rajesh Sharma, lawyer of the accused.
So far, the police have no evidence that any of them uploaded the video.
But Kishori Sharma and Bansi Lal, both government teachers, have been sacked pending inquiry. Their sacking order accuses them of disturbing law and order and anti-Islamic activities.
Police sources say preliminary investigation indicates that the video originated from Pakistan.
The police have written to Facebook asking for the origin of the video, but has got no positive response from the India and Asia heads of the social networking site.
Finally, the Jammu and Kashmir Police approached Facebook's headquarters in the US; they are expecting a reply in four weeks' time.
The accused have moved the court for bail. The next date of hearing will be on December 12. The court has also asked the police to submit its response by then.