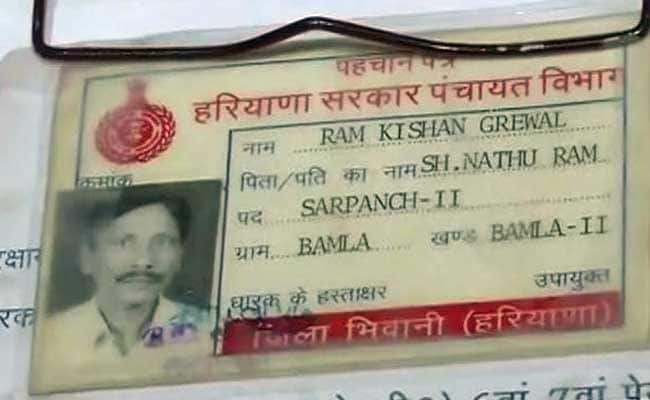 Highlights
RK Grewal took poison on Tuesday, made a phone call to son before death
Needs to be seen if anyone took advantage of his troubled mind: Sources
Sources say his pension issue could have been resolved
New Delhi:
Army veteran Ram Kishan Grewal, who took poison over his pension, may have been instigated into suicide, sources in the Defence Ministry suggested on Wednesday as politics peaked over the death.
"The circumstances of his death merit thorough investigation," sources said.
The subedar, who served in the Army for 30 years, ate sulphas tablets on Tuesday afternoon in the lawns of a government building in the heart of the capital.
Before he died on Tuesday, Mr Grewal, 65, made a last phone call to his son Jaswant Grewal. In the call, recorded by his son, he could be heard saying, "I have consumed poison, I am at Jawahar Bhawan".
He described his suicide his "sacrifice for my jawans and country," and said: "What is happening to us is disastrous. Jawans haven't got justice".
On October 31, he had reportedly written to Defence Minister Manohar Parrikar complaining that he hadn't received what was promised under the One Rank One Pension (OROP) scheme. His family claims he was trying to meet the minister with a petition.
Sources said the ministry had not received any request for appointment "nor does his letter say any such thing".
"His letter dated 31 Oct and his suicide on Nov 1 raises several questions. It also demands serious investigation about who was with the deceased when he took the extreme step, who provided the poison and if anybody may have taken advantage of his troubled mind to provoke him to take the extreme step," said the sources.
The ministry also said that Mr Grewal's pension was not held back, "the delay in receiving the revised pension was due to problems in calculation at his bank. That could easily have been resolved".
The sources said the Defence Ministry and Mr Parrikar have accorded highest priority to addressing complaints in implementation of the "historic" OROP benefit.
Opposition leaders seized upon the suicide to target the government over OROP. In high drama on Wednesday, Congress leader Rahul Gandhi was detained twice and was taken to multiple police stations in the capital, while Delhi Chief Minister Arvind Kejriwal was detained for five hours.