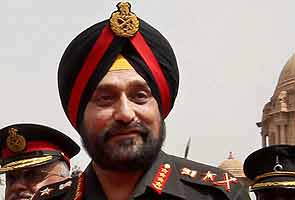 New Delhi:
As Indian Army Chief General Bikram Singh lands in Colombo later today, he is certain to hear from his hosts about many unfulfilled aspects of Indo-Sri Lanka Defence Cooperation.
One of the unfinished agendas between India and Sri Lanka is a formal Defence Cooperation Agreement (DCA), in discussion between the two countries since 2003.
Top Defence sources in both the capitals say most aspects of a formal pact have been agreed upon but domestic compulsions on either side have prevented the final signing of the DCA.
The lack of a formal defence cooperation pact has however not prevented the two countries from furthering their defence ties, opposition in Tamil Nadu to the presence of Sri Lankan military personnel in various Indian training institutions notwithstanding.
In fact, according to highly placed sources, the first ever platoon level combined military exercise between the two countries is currently underway at the Special Forces Training Centre at Nahan in Himachal Pradesh. Given the sensitivities involved, both the countries have however decided not to publicise the event.
This is not all.
Despite the political controversy that erupted in Tamil Nadu earlier this year, India continues to host and train a large number of Sri Lankan officers across the three armed forces. While it is a fact that China and Pakistan have increased their military involvement with Sri Lanka in the past decade, India remains the preferred destination for training of Sri Lankan officers.
In 2011-12 for instance, 820 Sri Lankans undertook training in Indian Military Establishments. In the current year (2012-13), 870 officers are undergoing training in India. This includes two senior officers doing the prestigious National Defence College (NDSC) course in New Delhi.
Four Indian officers also do three different courses in Sri Lanka since 2010. While one officer each tarin at the Defence Services Staff College and the Counter-Insurgency and Jungle Warfare School, two Indian Officers have been doing a course in the Special Operations and Jungle Warfare School in Sri Lanka since 2011.
New Delhi and Colombo also started a formal Annual Defence Dialogue (ADD) in February this year when Sri Lanka's Defence Secretary (in reality, Defence Minister) the all-powerful Gotabaya Rajapakse held talks with India's defence secretary Shashikant Sharma in New Delhi. The next round of this dialogue is slated for February 2013 in Colombo.
Last year (2011) also saw the initiation of the Army to Army Staff Talks between the two countries. Held again this year, these talks between the two armies actually finalises the training and exchange visit schedules.
In February 2009, India also helped Sri Lanka open its Military Intelligence School in Kandy. A 10-strong Indian Army Training Team (IATT) has a mandate to be stationed in Sri Lanka till December 2013.
Although India has steadfastly maintained its policy (at least in public) about not supplying offensive military hardware to Sri Lanka, it has quietly decided to extend a 100 million dollars credit line to Colombo for purchase of non-lethal weapons.
In fact since 2000, India has supplied 24 L-70 anti-aircraft guns, 11 USFM radars, 10 Mine Protected Vehices and 24 Battlefield Surveillance Radars to Sri Lanka.
Ever since the military defeat of the Liberation Tigers of Tamil Eelam (LTTE) in May 2009, New Delhi and Colombo have tried to reset their defence relationship.
General Bikram Singh's four-day visit is but one step forward in that direction.