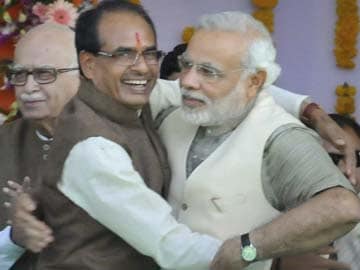 New Delhi:
On Wednesday, the BJP picked a local leader to nominate to the Rajya Sabha from Madhya Pradesh. That routine selection is seen as confirmation that Shivraj Singh Chouhan has an increasingly bigger say in the BJP. Also, a signal that under Narendra Modi, powerful chief ministers will get a say in the party.
Mr Chouhan, who is Madhya Pradesh chief minister, met BJP president Amit Shah on Wednesday morning to push the candidacy of little-known Meghraj Jain for the Rajya Sabha seat. Mr Shah, who had reportedly been considering Om Mathur - who organised the very successful BJP campaign in Gujarat for the national elections - agreed to field Mr Jain instead.
Mr Chouhan wanted a local leader fielded for the Rajya Sabha to pre-empt another attack from rival Congress over the BJP picking leaders from outside the state to represent it in Parliament.
Last year, a section of the BJP led by LK Advani, in an attempt to counter Mr Modi's growing clout in the BJP, had pitted Mr Chouhan against him as an alternative. Mr Advani repeatedly praised Mr Chouhan in public speeches, suggesting that he was as able an administrator as Mr Modi, then Gujarat chief minister.
When Mr Modi was inducted into the Parliamentary board, the BJP's highest decision-making body, Mr Advani tried to get Mr Chouhan a slot too, but failed.
Mr Chouhan was included on the board last month, at the same time that Mr Advani was dropped from it. It was seen not only as an attempt at political balancing, but also as one win over Mr Chouhan, who was seen as part of the LK Advani-Suhsma Swaraj group in the BJP.
Then, Nand Kumar Patel, a leader backed by Mr Chouhan, was chosen as the BJP chief in Madhya Pradesh.
The BJP's ideological mentor, the RSS, reportedly assesses that the party suffered in the national elections five years ago because it had not strengthened its chief ministers to win their states. This year, in the spectacular win that Mr Modi scripted for the party, Mr Chouhan played a significant role - he delivered a near sweep in Madhya Pradesh.