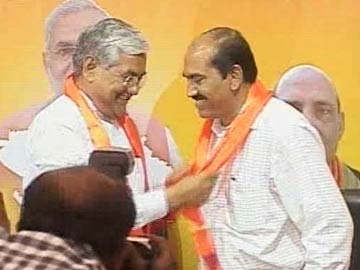 Ahmedabad:
First it was former Deputy Chief Minister Narhari Amin, then the gun-toting parliamentarian Vithal Radadiya and his son, Jayesh Radadiya, and now the latest in the list of Patel leaders from Gujarat's Saurashtra region dumping the Congress for the BJP is legislator from Babra constituency, Bavkubhai Undhad.
With barely few months left for the Lok Sabha polls, due by May, Mr Undhad's departure spells more trouble for the beleaguered Congress which already finds itself on the mat following three successive losses in the recent assembly elections.
Incidentally, Mr Undhad, who won the Babra assembly seat from Saurashtra in 2012 on a Congress ticket, had left the BJP more than a decade ago.
A confident BJP claimed that leaders were returning to them because of the party's prime ministerial candidate. "These leaders want to see Narendra Modi as the country's prime minister. That's why people who had left their parent organization are now returning to party fold,'' said Gujarat BJP chief, RC Faldu.
Mr Undhad agreed. "If we have to strengthen the country and ensure its place of pride in the world, then we all must ensure that we should be on Narendra Modi's side," he said.
In the 2009 Lok Sabha polls, Congress managed to win 11 out of 26 seats despite a Modi wave. Four of those wins came from Patel-dominated Saurashtra region. But the going this time for the Congress seems to be tough with several Patel leaders deserting it.
But the Congress is trying to put up a brave face. "These are people who are non-committed. They don't matter much as their deserting will not make any difference to the party's fortunes,'' a defensive Madhusudan Mistry, senior Congress leader, said.
Analysts, however, believe the desertions will impact the Congress. "An exodus has started from the Congress, and as the election dates draw near, we will find more people jumping onto the BJP's bandwagon,'' political analyst Dinesh Shukl said.