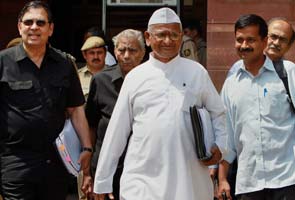 New Delhi:
Anna Hazare's supporters on Sunday burnt copies of the government proposed Lokpal Bill at Jantar Mantar, saying the Gandhian was determined to go on his indefinite fast from August 16 to press for clearance of the civil society's version of the legislation.
"Government's Lokpal is dangerous as it virtually covers nobody. Besides 1.25 crore government 'babus', the Prime Minister, Ministers, MPs, MLAs and even Chief Ministers do not fall under the ambit of the Lokpal Bill. It is a farce. Anna Hazare will certainly go on fast," social activist Arvind Kejriwal said.
He said denial of permission from the Delhi police will not deter the activists and Anna from going ahead with his proposed fast and protest against the official version of the bill which is an "insult to the Parliament".
"Kapil Sibal says burning copies of the bill is an insult of the Parliament. Delhi Police says burning papers (Bill) is the violation of the Environment Protection Act. We say bringing such a sham bill in the Parliament is its insult not the burning," Kejriwal said.
Anna has been denied permission to hold his indefinite fast and protest at Jantar Mantar on the ground that prohibitory orders under section 144 of the CrPC is in force in the area.
Kejriwal said BJP-run MCD has granted permission to hold the protest at the Ramlila Ground but the sanction from police was still awaited.
Besides Kejriwal, other activists also took part in the protest at Jantar Mantar and burnt copies of the bill and later proceeded to the India Gate.
At the site of the protest in which Anna Hazare did not take part, Kejriwal said if government denies permission, activists would court arrest and protest in jail.
"No corruption, whether it is related to the Prime Minister or corruption in ration shops, government schools and hospitals, is covered under the proposed Act. However, it does provide for two years in jail for the whistle blowers," he said.
The government's Lokpal bill covers about 0.5 per cent of public servants, yet it brings under its ambit "virtually every citizen's group and organization, serving public cause...this raises a pertinent question as to on whom, the Lokpal targeted at," he said.
Provisions in the draft bill, favour "corrupt public servants" as such officials are allowed to file a lawsuit against whistle blowers and complainants for accusing them of filing "frivolous" complaints, he said.
Kejriwal said prominent citizens, including judges, Bollywood superstar Aamir Khan, have pledged their support to the movement.
RTI activist S C Agarwal, sitting Information Commissioner Shailesh Gandhi and various retired bureaucrats also spoke on the occasion.
A singer of Art of Living foundation of Sri Sri Ravishankar, who has also pledged support to the stir, sang patriotic songs at the function.