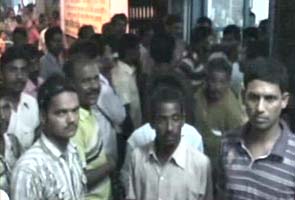 Malda:
Three children have died of a mysterious fever, suspected to be dengue, while 200 others have been admitted to the Malda district hospital in West Bengal today.
Angry relatives of the victim ransacked the hospital after 15-year-old Shefali Khatun and two minor boys, from the neighbouring South Dinajpur district, died at the paediatric ward of the Malda Medical College and Hospital yesterday. The relatives claim the doctors didn't pay enough medical attention to the victims.
According to hospital sources, at least 200 patients are admitted in the medical ward, resulting in a rush of patients in the paediatric ward also. Blood samples have been sent to Kolkata for diagnosing the disease, officials said. It is suspected that the mysterious fever can be dengue.
The Malda Medical College and Hospital has been in the news for all the wrong reasons for the past one year. In April this year, nine babies died within a space of 12 hours at the hospital. At least 29 newborns died this year at the hospital. In November last year, 26 infants had died at the same hospital over a period of six days.
(with inputs from PTI)