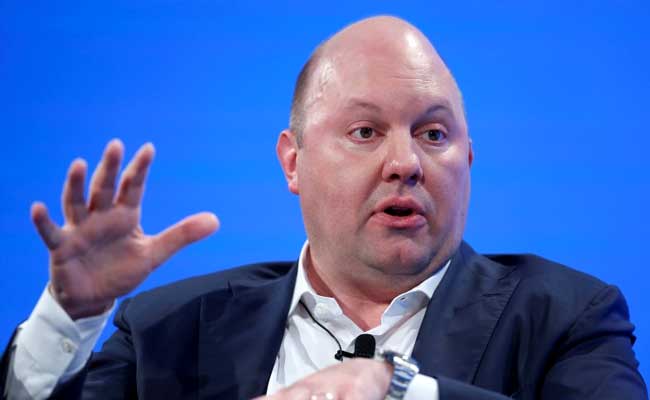 Marc Andreessen has apologized to India.
On Tuesday, the Silicon Valley venture capitalist and Facebook board member had lashed out on Twitter, saying that Indian authorities were wrong to block the social media giant's free Internet service and suggested the country would be in better shape if the British were still in charge.
"I apologize for any offense caused by my earlier tweet about Indian history and politics," the investor, who first became famous for co-founding Netscape, tweeted Wednesday. "I admire India and the Indian people enormously."
Controversy erupted over Facebook's Free Basics Service, which lets people access for free a limited number of websites including the social networking site. India's telecommunication regulator this week banned it, ruling that Internet service providers couldn't charge different rates for different parts of the Web. The decision was hailed as a victory for net neutrality, the principle that all Internet websites should be equally accessible. Facebook, on whose board Andreessen sits, said it was "disappointed with the outcome."
That set the stage for one of the most furious Twitter fights this side of Kanye West.
Andreessen, or @pmarca as he's known on Twitter, wrote: "Denying world's poorest free partial Internet connectivity when today they have none, for ideological reasons, strikes me as morally wrong."
And: "Another in a long line of economically suicidal decisions made by the Indian government against its own citizens."
Benedict Evans, Andreessen's colleague at the Menlo Park, California, venture capital firm Andreessen Horowitz, who uses the handle @BenedictEvans, chimed in: "It's a terrible thing to offer people with no money the choice of something free."
That provoked several Indian businessmen and entrepreneurs to enter the fray, to explain that Facebook's plan was akin to a walled garden with access controlled by the social media network, and that offering such a plan in the guise of a public good sounds like a justification for Internet colonialism.
"Anti-colonialism has been economically catastrophic for the Indian people for decades. Why stop now?" Andreessen replied in another tweet.
That really got people riled up.
"I had to step away from my desk after reading this. Wow," tweeted Abhimanyu Ghoshal, a Bengaluru-based tech reporter for The Next Web.
After 190 years of British rule, India got its independence in 1947 following a bloody struggle. Andreessen and Evans's tweets appeared to suggest that colonialism was a good thing for India, and that the departure of the British fostered a fervent desire for the country to oppose all things Western.
Caille Millner, columnist at the San Francisco Chronicle posted on Twitter: "If ANYONE in Silicon Valley cares about @pmarca come and get your boy bc he's abt to yell 'We gave those ungrateful natives the railroads!'"
Evans wrote that the country's growth rate fell after 1947, suggesting it was largely a result of the country's anti-colonial policies and asking people to search Google for "Hindu rate of growth."
That only stirred the pot further.
"Do you know what Bengal famine was? Does the word genocide sound familiar," Twitter user Anomalily, who Tweets under @tetisheri, wrote, later continuing: "Do you also seriously not know that colonialism without reparations left us poor to begin with?"
Evans tweeted: "Do you genuinely not know how slow India growth was after 1947? And that this was because of misguided govt policies? Seriously?"
Andreessen didn't immediately respond to an e-mail sent after office hours. His firm's public relations company, Outcast Agency, also didn't immediately respond to an e-mail and voicemail sent after office hours.
With this week's decision, India joins countries such as the U.S., Brazil and the Netherlands in passing laws that restrict telecom operators from charging different rates for Internet traffic based on content. It's a blow to Facebook's Internet sampler plan known as Free Basics, which is currently offered in about three dozen countries including Kenya and Zambia, none of which come close to the scale of India.
With 130 million Facebook users, 375 million people online, and an additional 800 million-plus who aren't, India is the biggest growth market for the social network, which remains blocked in China.
Andreessen Horowitz, founded in 2009 by Andreessen and Ben Horowitz, has made investments in fast-growing technology companies, including Facebook, Lyft, Box, BuzzFeed and many others. Bloomberg LP, the parent of Bloomberg News, is an investor in the venture capital firm.
The controversial tweets were later deleted by Andreessen, as more Indians began venting their anger on Twitter.
"I now withdraw from all future discussions of Indian economics and politics, and leave them to people with more knowledge and experience," Andreessen said on his Twitter feed Wednesday.
© 2016 The Washington Post
(This story has not been edited by NDTV staff and is auto-generated from a syndicated feed.)