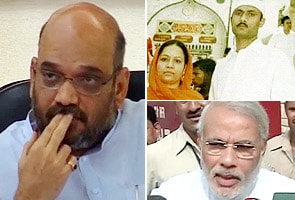 Ahmedabad:
Narendra Modi's most trusted aide Amit Shah, who is now in jail, will get a copy of the CBI's chargesheet on Tuesday - a day before he faces questioning by the agency.
Shah is accused in the Sohrabuddin fake encounter case and the CBI will question him in judicial custody - something usually done in high profile cases.
This means Shah will be interrogated under the scrutiny of a judicial officer and this will be video-taped. The agency believes this will minimise allegations against the CBI by Shah or his party.
Amit Shah on Monday moved the special CBI court for bail and the court will hear his plea on August 2. Veteran lawyer Ram Jethmalani will assist Shah's advocates in pleading for bail.
The court has also granted permission to the CBI to interrogate Shah in judicial custody on July 28, 29 and 30 from 9 am to 5 pm.
The interrogation will be audio and video-taped.
Missing for some time, Amit Shah had surfaced dramatically over the weekend at a BJP press conference to proclaim his innocence. He had then demanded that his questioning by the CBI be video-taped.
Shah, who resigned over the weekend as a minister in Narendra Modi's government, was arrested on Sunday for his role in the murders of Sohrabuddin Sheikh, a young Muslim man, and his wife in 2005 in Ahmedabad. (
Read: Who was Sohrabuddin Sheikh?
)
The case against Shah accuses him of working with 15 senior policemen to abduct Sohrabuddin and his wife, Kauser, from a bus. They were then illegally detained and killed by senior police officers. At the time, the policemen insisted that Sohrabuddin was a Lashkar-e-Toiba terrorist who wanted to assassinate Modi. The state government admitted in court in 2007 that this was not correct, and that Sohrabuddin had been killed in a fake encounter.
FORMER TOP COP TURNS APPROVER
But it would seem that Amit Shah's troubles have only just begun. A former senior policeman has sought to turn approver and could present damaging evidence against the former minister. (
Read: Senior policemen summoned by CBI
)
NK Amin was arrested in 2007 in connection with the Sohrabuddin case. He was then the Assistant Commissioner of Police for the Ahmedabad Crime Branch. Amin had allegedly taped a phone conversation with NV Chauhan, an inspector who was assigned to guard Kauser at the farmhouse where she was kept in illegal custody by senior policemen including DG Vanzara, who was the DIG, Anti-Terror Squad (ATS). (
Watch: Senior cop turns approver
)
In the phone recording, Chauhan allegedly tells Amin that he overheard a conversation where Shah, who was Minister of State for Home in Gujarat, ordered Vanzara to kill Kauser and ensure that her body could not be identified.
If Amin is giving permission in court to turn approver, it will be a major breakthrough for the CBI.
The BJP's senior leaders have accused the CBI of not having evidence against Shah. They say that's why the CBI hasn't asked for his custody, despite his arrest. However, CBI sources say the agency wants to ensure it has a strong case against Shah before it takes him into custody for interrogation. Getting Amin onboard as an approver is apparently part of that strategy.