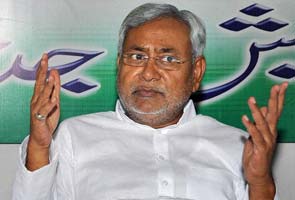 Patna:
In Bihar, after the Nitish Kumar-led National Democratic Alliance (NDA) came back into power in 2010, the last Monday of every month was reserved for NDA workers to air their grievances, give suggestions and ground feedback about the functioning of the government. The session used to be followed by a delicious vegetarian lunch.
However, tomorrow, for the first time Chief Minister Nitish Kumar has decided not to play the generous host to NDA workers.
The move is being described by many as the fallout of the ongoing tension between Mr Kumar's party Janata Dal (United) and the Bharatiya Janata Party (BJP), which was sparked off after Mr Kumar, in an interview, had declared that the NDA should announce its leader for the 2014 elections much in advance. That interview saw extreme reactions from both the parties, culminating in NDA convenor Sharad Yadav issuing a gag order to his party leaders on Saturday.
Even though both sides agreed to a ceasefire, the situation has still not cooled down enough where leaders of both the parties can sit down and hear the workers.
Bihar JD(U) president Vashista Narayan Singh has, however, cautioned that the media is trying to read too much in between the lines. He said the meeting was put off as the janata darbar area in 1 Anne Marg, which is the official residence of the chief minister, is under renovation.
Dr CP Thakur, the Bihar BJP president, said the lunch being called off is not due to the tension but due to the pressing engagement of the chief minister who has to leave for the planning commission meeting on Tuesday morning. Mr Kumar must be giving final touches to the requirements of Bihar, he added.
However, leaders from both the sides admit that after Gujarat Chief Minister Narendra Modi posters were displayed in Patna during the price rise demonstrations on Friday, nobody wants to take a chance, in case some BJP workers repeat the act in the janata darbar and start shouting pro-Modi slogans. That would not only be embarrassing for Mr Kumar, but also for state BJP leaders like Sushil Modi and Nand Kishore Yadav who are trying their best to keep the alliance intact.