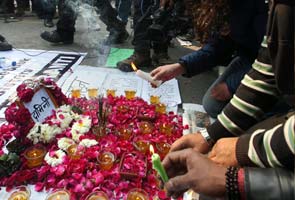 New Delhi:
After her 23-year-old daughter was cremated, her mother collapsed and was rushed to hospital.
The story of the young woman who fought so courageously for her life for two weeks after she was raped by six men on a bus in Delhi has stung, hurt and shamed the country, with thousands vowing that the young woman's death will not be in vain, a pledge echoed by the Prime Minister and other government officials.
'Amanat' (not her real name) died in Singapore on Saturday morning, three days after her parents flew with her on an air ambulance to a hospital, leaving behind a country praying for a miracle.
Her mother, 45, was reportedly who Amanat communicated with most in the past 13 days that she spent in hospital. Three days after her savage attack, she told her mother that she wanted to live.
Doctors who attended to her mother today say she needs counselling for her trauma. She did not eat anything in the hours she spent at the hospital, sipping some milk instead.
Doctors said she appeared to have not eaten properly for nearly two weeks.
Amanat was a remarkably committed and good student, determined to study medicine. She coached many children in her neighbourhood. She helped bring up her two younger brothers. She was hoping to get married in February, neighbours said.
They knew of her relationship with a young software engineer, who watched The Life of Pi with her at a South Delhi mall on Sunday night.
They decided to take a bus home. When six drunk men on board including the driver began harassing her, he tried to intervene. They hit first him and then her with an iron rod. Then they took turns raping her before throwing the couple onto the road.
The barbarous contours of the crime incensed India, and students and others held near-daily protests demanding better safety for women and a faster and more effective process of trials for rape cases. Some have been petitioning for the death penalty for extreme cases of sexual assault.
The six men have been arrested, charged with murder and their trial is likely to begin on January 3
Over 2000 policemen were on guard outside the cremation ground for Amanat.
The Prime Minister and congress president Sonia Gandhi had received her family at the airport.
(With inputs from agencies)
Get Breaking news, live coverage, and Latest News from India and around the world on NDTV.com. Catch all the Live TV action on NDTV 24x7 and NDTV India. Like us on Facebook or follow us on Twitter and Instagram for latest news and live news updates.