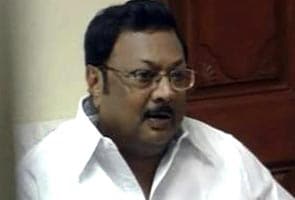 Chennai:
The DMK's troubles are far from over. Hit hard by the alleged involvement of prominent leader A Raja in the massive 2G scam in an election year, the party now has to again deal with rebellion at home.
There are reports that DMK chief M Karunanidhi's older son, Union Chemicals Minister M K Alagiri, has threatened to quit his party position if the party does not sack A Raja from all party positions he holds. Raja had to quit as Telecom Minister a few months ago for his alleged role in the 2G spectrum scam.
Alagiri has also reportedly demanded similar action against his sister Kanimozhi and the state IT Minister Poongothai for making derogatory references against him in recorded conversations on the Niira Radia tapes.
Alagiri is the DMK's organising secretary for south Tamil Nadu, and there are unconfirmed reports that he has now also demanded a state-level party position.
Karunanidhi's older son has been trying hard to edge into state-level politics for quite some time now. At the core of that ambition is the fact that younger brother MK Stalin is looked upon as the successor to their father and Chief Minister M Karunanidhi, much to Alagiri's chagrin.
The DMK's annual general council meet is scheduled for the February 3.
With elections due in Tamil Nadu this year, the DMK can ill-afford Alagiri's rebellion. J Jayalalithaa of the AIADMK is already leaving no stone unturned to attack the ruling party over A Raja and the 2G spectrum scam.
Prime Minister Manmohan Singh was in the state two days ago and insisted that all was well in the Congress-DMK alliance. But it may need something more than that assurance to solve the DMK's problems.