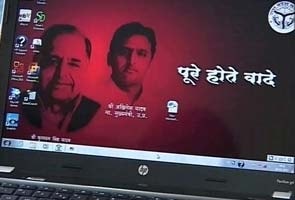 Lucknow:
Over the next eight months, Uttar Pradesh Chief Minister Akhilesh Yadav will gift nearly 15 lakh laptops to first-year college students.
Just to remind the lucky recipients of who they have to thank for their freebie, the Hewlett-Packard laptops, worth Rs. 19,000 each, will boot up with photos of the chief minister and his father, Mulayam Singh, on the home page.
Before the national elections in 2009, the manifesto of their Samajwadi Party argued against schools and colleges teaching English or computers. In last year's elections, Akhilesh, who led his party's campaign, sought to reverse that, vowing to give free computers to students.
Today, 10,000 students from colleges in Lucknow received their laptops from the 39-year-old Chief Minister, who completes his first year in office on Friday. "If this is what we can achieve in one year, imagine what we can accomplish over the next four years," he said.
Some in his target audience seemed to have got the message, loud and clear. Pankaj, a first-year student of a medical college in Lucknow, is now eligible to vote. When the next election comes around, he says, the Chief Minister's party is likely to get his support - provided it keeps other promises too, he cautioned.
When he was campaigning across the state, Mr Yadav expended much of his time and energy on young people, promising them free computers and tablets if they voted for him.
Lately, he has been accused of reneging on another campaign promise - to sanitise Uttar Pradesh of "goonda raj" or lawlessness.
One of Mr Yadav's ministers -
Raja Bhaiya
, a politician with a dark criminal record - was forced to resign last week after he was accused of conspiring in the assassination of a senior police officer in his constituency of Kunda.
The murder of Deputy Superintendent of Police Zia-ul-Haq is being investigated by the Central Bureau of Investigation or CBI.