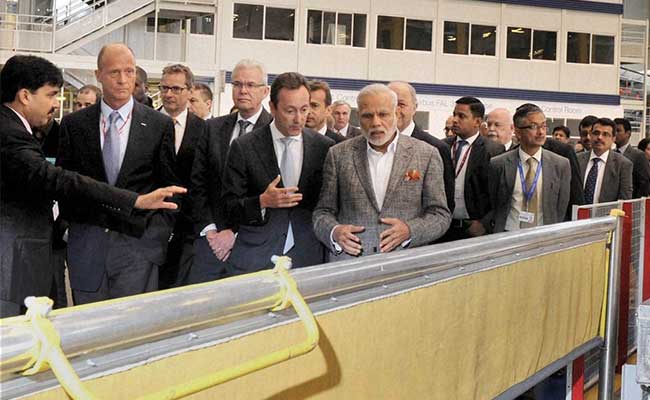 Toulouse:
Aircraft manufacturer Airbus today disclosed its plans to raise its Indian outsourcing to USD 2 billion and its keenness to manufacture in India, giving a boost to Prime Minister Narendra Modi's 'Make in India' initiative.
On day-two of his France visit, PM Modi became the first Indian Prime Minister to visit the World War I memorial in the northern city of Lille to pay homage to 10,000 Indian soldiers who died fighting Germany alongside France in the war between 1914-18.
Laying a wreath at the martyr's memorial, the Prime Minister spent about 50 minutes as several Indians gathered and raised 'Vande Matram' slogans.
Accompanied by French Foreign Minister Laurent Fabius, PM Modi arrived in Air India One and went straight to the facility of Airbus, one of the two major global manufacturers of aircraft and took a tour of the plant.
"We are honoured to host Prime Minister Modi in Toulouse and convey to him our desire to forge a stronger industrial bond with India. India already takes a centre-stage role in our international activities and we want to increase its contribution to our products," said Airbus Group CEO Tom Enders.
"We support Prime Minister Modi's 'Make in India' call and (we) are ready to manufacture in India, for India and the world," he added.
Ministry of External Affairs spokesperson Syed Akbaruddin tweeted
500% increase in 5 years. #10;@Airbus to PM @narendramodi : Indian outsourcing to increase from $400 mil to $2 billion pic.twitter.com/cn0fc4Kb1N

mdash; Syed Akbaruddin (@MEAIndia) April 11, 2015
In India, Airbus Group already operates two engineering centres - one focused on civil aviation and the other on defence - besides, a research and technology (R&T) centre which together employ over 400 highly qualified people.
The group's senior representative conveyed their decision to expand these centres so that they can take on comprehensive design responsibilities for future Airbus group programmes.
Prime Minister Modi was given a tour of the Airbus A380 final assembly line. Currently, four A380 flights serve India daily.
"Much larger markets are waiting to be tapped, the potential for A380 to help Indian carriers win greater multinational market share with a flagship aircraft is enormous," an Airbus press release said.
The group is willing to set up final assembly lines and establish supply chains and related infrastructure for military transport aircraft and helicopters in India, the press release said.