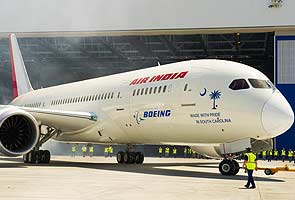 New Delhi/Mumbai:
Air India, confronting the 10th day of a strike by 300 pilots, has another bitter pill to swallow: its share in the domestic market has slid to fourth position, even below the troubled Kingfisher Airlines.
A report by the regulatory body for airlines shows that the airline's seat occupancy for flights within India has fallen to 70%, the lowest among all domestic carriers for the month of April. Compare that to 82% for Indigo, or 77% for Jet.
The 16-page report by the Directorate General for Civil Aviation (DGCA) evaluates other factors for airline performance for every month. It finds that Air India is the only airline whose on-time performance is less than 80%.
The pilots, who are on strike, say that their promotions are being delayed. They also want their seniority protected. The government has said the pilots must get back to work. So has the Delhi High Court, which declared the strike in the midst of the peak summer season as illegal. But the pilots have refused to report to work. The court will today pronounce its verdict on the ongoing agitation.
Recently, the government cleared a Rs 30,000-crore bailout for the national carrier - one that's becoming increasingly hard to defend.
Kingfisher Airlines has also been having a rough time. The carrier's massive losses and debt mean that pilots and other employees are not being paid on time. The airline has scaled down its schedule to operate fewer flights.