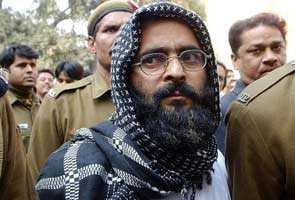 Srinagar:
An Urdu newspaper in Kashmir has published a letter, allegedly written by Afzal Guru, who was executed earlier this month, in which he defends the attack on the Indian Parliament in 2001, for which he was given the death sentence. "We should not feel ashamed of December 13," Guru allegedly writes, referring to the date of the terror attack at Parliament in which nine people were killed, most of them security guards.
(Read highlights of his letter)
His letter was sent in 2008 to Shabnum Qayoom, the editor of the newspaper "Qaumi Waqari."
Guru was found guilty of providing arms and accommodation to the five terrorists who drove into Parliament and opened fire. He was hanged in a top-secret operation earlier this month and then buried at Delhi's Tihar Jail, where he had been on death row since 2004.
Many human rights activists said Guru had not been given a fair trial. A letter informing his family of the plan to execute him was received by his wife in his hometown near Sopore in Kashmir two days after he was hanged, triggering wide criticism.
The letter from 2008 adds a new dimension to the controversy over his role in the Parliament attack. Shabnum Qayoom, the editor who the letter was sent to, says Guru writes that the terror strike is not cause for shame, just as army troops who violate human rights in Kashmir are not apologetic for their actions. The editor claims Guru writes, "The incident (Parliament attack) is linked to the Kashmir issue...if it is a conspiracy, then the whole armed resistance is a conspiracy."
But another letter, written by Guru to his lawyer Sushil Kumar in 2004 states that he was urged to help the five terrorists who attacked parliament by an Special Operations Group (SOG) officer of the Jammu and Kashmir police, and that he agreed to assist in the terror strike to protect his family, who would have been at risk if he had refused to cooperate.