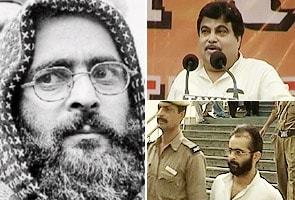 New Delhi, Dehradun:
Wars of words - ugly even by political standards - are not uncommon for the Congress and the opposition BJP.
But the latest round has lowered the bar by several notches in one fell swoop.
At a rally in Dehradun, Gadkari slammed the Congress for being incapable of dealing with terror. He zeroed in on the case of Afzal Guru, the man sentenced to death for leading the attack on the Indian Parliament in December 2001.
"I want to ask the Congress leaders if Afzal Guru is their son-in-law. It is a party full of fearful people. They can never fight with terrorists and can never get rid of terrorism. It is a party which will bow down in front of terrorists and can never protect India," he said.
For more than eight years, Afzal Guru has been on death row, with the files on his case being passed to and fro between the Home Ministry and the Delhi government.
Congress spokesperson Manish Tiwari's comment on Gadkari's allegation was equally loaded. "Obscenity, obnoxiousness and obtuseness should never be dignified by a response," he said, going to respond with considerable sarcasm, "It's very obvious that the esteemed President of the BJP has lost it completely. The BJP should take pity on him...the man needs serious help."
(Watch: Gadkari has lost it completely: Congress)
Arrested within days after the attack in which 13 people were killed, 41-year-old Afzal Guru was convicted of masterminding the attack that almost succeeded in rupturing India's political establishment.
He has been on death row for over eight years, with his files shuffling between the Delhi government and the Centre.
Four years after its opinion was sought, the Sheila Dikshit government finally gave its opinion to Lieutenant Governor Tejinder Khanna saying that it supports the Supreme Court's death sentence to Afzal Guru, but added a rider saying that the implications of the execution must be taken into consideration.
So what now for the man who in an interview to NDTV just seven days after the attack, virtually confessed to the crime?
When asked about the motive behind the entire Parliament attack conspiracy, Afzal had told NDTV on December 20, 2001 that the motive was to 'finish' all the MPs.
The Supreme Court upheld Afzal's death penalty in 2005. Since then, the Opposition has attacked the UPA for delaying his hanging, saying if Afzal is not hanged India will be seen as a soft state.