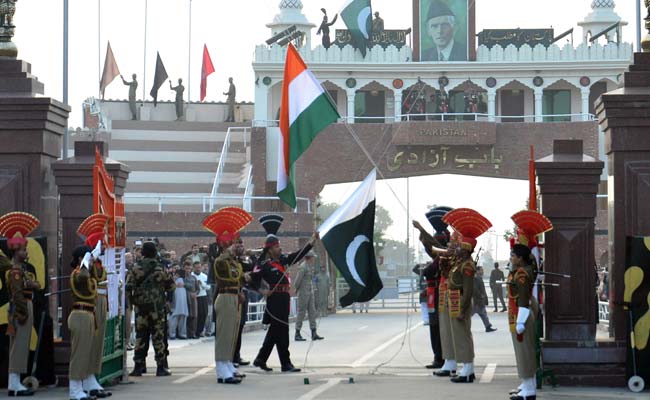 New Delhi:
India and Pakistan have strengthened security at Wagah Border, where soldiers of the two countries collaborate in a widely popular retreat ceremony, after Islamabad's warning of a suicide attack around Independence Day.
Pakistan's top counter-terrorism agency has issued two alerts warning about possible terror attacks by two Taliban suicide bombers at Wagah.
Sources say in a meeting with the Border Security Force yesterday, officers of the Pakistan Rangers requested that the Wagah ceremony be advanced by 30 minutes between August 13 and 15. India has agreed, say the sources.
More armed personnel have been posted around the spot where hundreds on both sides of the border sit and watch a choreographed military show that ends with the symbolic lowering of flags.
"Tehreek-i-Taliban's Fazalullah group is planning to target parade at Wagah Border in Lahore and Ganda Singh Border in Kasur on August 13, 14 or 15," said a security alert in Pakistan.
"Extreme vigilance and heightened security measures are suggested to avoid any untoward incident," it said.
Pakistan's Punjab has also issued a separate alert saying "at least 16 suicide attackers have entered the Punjab province" and they are planning to target public gatherings around Independence Day. The police in the Pakistani province have tightened security along the border and arrested many suspects, an official said.
"Police have taken more than 50 suspects into custody and security has been strengthened in the city as well as in the border areas," Lahore police spokesman Niyab Haider told Press Trust of India.
In November, 2014, over 60 including children and security personnel were killed and 200 wounded in a deadly terror attack at Wagah. The attack took place right after the retreat ceremony.
Pakistan has been on guard after the blast in Quetta earlier this week in which 74 people, mostly lawyers, were killed.