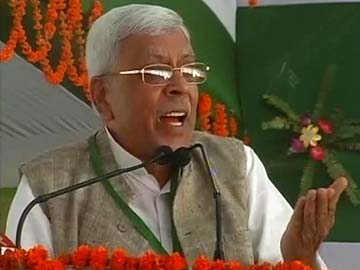 Rajgir:
After Bihar Chief Minister Nitish Kumar delivered a speech studded with criticism of his political rival, Narendra Modi, he received thundering applause. Not unexpected, given that he was addressing his own party at a conference to plan its strategy for the national election.
What was worth noting was that the first person to congratulate him, with a handshake, was his colleague and parliamentarian Shivanand Tiwari. Minutes before Mr Modi's speech, he had saddle-bagged the convention with controversial remarks that appeared to praise Mr Modi, who is the BJP's choice for prime minister.
"Mr Modi must not be under-estimated," Mr Tiwari had advised the Janata Dal United, provoking angry shouts. He described Mr Modi's career path from ordinary tea seller to contender for the country's top job as an example of the leader's prowess.
Mr Kumar took the stage nearly a half an hour later. His 90-minute take on Mr Modi was so aggressive that party leaders say Mr Tiwari's controversy was soon forgotten.
Accusing Mr Modi and the BJP of adopting a strategy followed by Hitler and his advisors, Mr Kumar said that the BJP's declaration of a Modi wave across India is based on the assumption "that if you tell a lie 100 times, it starts being taken for the truth."
Earlier this year, Mr Kumar ended his party's 17-year alliance with the BJP after it selected Mr Modi to play the main role in its campaign for the national election. Mr Kumar says that Mr Modi is a divisive leader, who has lost the confidence of Muslims and other minorities since the communal riots of Gujarat in 2002 in which over 1000 people were killed.
At a rally in Patna on Sunday, which began after serial blasts in which six people were killed, Mr Modi described Mr Kumar as a political opportunist who "betrayed the people of Bihar by ending his alliance with the BJP."