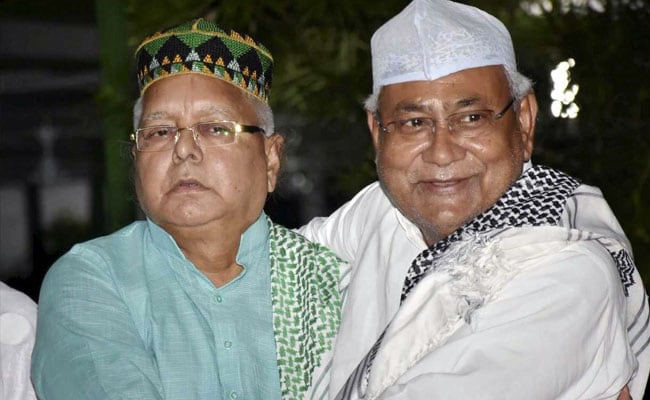 Highlights
Nitish Kumar strikes peace deal with ally Lalu Yadav
But third partner Congress attacked again by Nitish Kumars party
Allies upset over Nitish Kumar backing BJP's choice for President
Patna:
Over freshly-cut mangoes this morning, Bihar Chief Minister Nitish Kumar entertained spokespersons from his party with anecdotes of his political past. But the real agenda of the breakfast chat was to make it clear that a truce has been crafted with ally Lalu Yadav, and that the name-calling that is exactly a week old must end.
But subtler digs are apparently sanctioned: a senior leader from Nitish Kumar's party, KC Tyagi, said in Delhi that former ally BJP "never made us feel uneasy at any stage", a remark designed to remind the Chief Minister's partners that he's open to exploring options to them.
Nitish Kumar runs his government with Lalu Yadav and the Congress. Last Tuesday, he terminated an understanding with them - and other parties - to oppose the centre's choice for President of India - and announced he would vote with the BJP for its candidate, Ram Nath Kovind, who was then the Governor of Bihar.
It would be churlish, Nitish Kumar said, to vote against a candidate who has such a strong link to Bihar.
Hostilities ensued. Lalu Yadav marked him for "a historic blunder." The Congress suggested betrayal. And with 15 other parties, Nitish Kumar's allies disclosed a united opposition nominee for President - former Speaker Meira Kumar. Hers is an established political family from Bihar - father Jagjivan Ram was a freedom fighter and Deputy Prime Minister; she has represented the state in the Lok Sabha.
By declaring her "Bihar's Daughter", Lalu Yadav sought to embarrass Nitish Kumar for opposing a woman leader from their home state, who, like Ram Nath Kovind, is a Dalit.
The Chief Minister rejected calls to reconsider his decision. Lalu Yadav's son, Tejashwi, who is Nitish Kumar's 27-year-old deputy, advised him publicly against "political opportunism." The Janata Dal United warned the comment "will weaken ties."
Then, last night, Lalu Yadav reportedly phoned the Chief Minister with the succor that he had met with his spokespersons and told them attacks on the Chief Minister are off-limits. To make an example, one spokesperson had been fired.
The Chief Minister's breakfast gathering today was a reciprocal gesture. But his other ally, the Congress, gets no reprieve. Yesterday, Congress leader Ghulam Nabi Azad accused the Chief Minister of being ruled "by several principles" to charge him abandoning ideology to team with the BJP for the Presidential election scheduled for July 17. "We are not part of the UPA," snapped Mr Tyagi, a spokesperson for the Janata Dal United, referring to the Congress-led coalition that lost the national election in 2014. He also said that former partner BJP, with home Nitish Kumar split in 2013, "never made us feel uneasy at any point."
Lalu Yadav's make-good effort is not surprising. Nitish Kumar's approach to the election of President is seen as a give-away of an increasing desire to cut his current alliance and partner again with the BJP.
Between the BJP and his party, Nitish Kumar has enough votes to remain in office. Lalu Yadav's children are being investigated for corruption by central agencies, and being in power is to his advantage given the speed at which the cases against his family are accelerating. Toning down his breach of contract remarks, therefore, is, like most political strategies, self-serving.